Armchair Musician: "The Voice," Week Ten
Two and a half months later, my journey with The Voice has come to an end. I'm sad to walk away, but I'm also overjoyed (and grateful) to have gone out on top.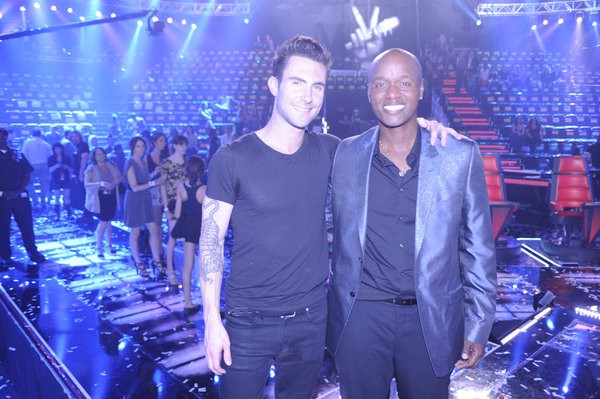 Everyone wants to finish on a high note, and this show certainly did that, for the most part. The final performance show saw the four finalists duet with their coaches - a move which signified their having flourished over the course of the competition and become equals. Dia Frampton and Blake Shelton were certainly having a great time performing Tom Petty's "I Won't Back Down," complete with Blues Brothers-esque black suits and shades. It was impossible to miss Blake's obvious pride in Dia as they performed together. Beverly McClellan and Christina Aguilera did an acoustic version of "Beautiful." (What is it with Christina picking songs she's previously done? First "Lady Marmalade" and now this.) It should surprise no one that I fell in love with Javier Colon and Adam Levine's rendition of Michael Jackson's "Man In The Mirror." My loyalty to Team Adam (now Team Javier) aside, their voices blended very well together, I loved the simplicity of the performance, and I was cheering when it was over. The song stuck itself in my head for most of Tuesday night.
Then there came the misstep: Vicci Martinez joining coach Cee Lo Green in tackling Pat Benatar's "Love Is A Battlefield," turning it into an outlandish production that looked as if Mad Max bred with West Side Story, complete with two warring teams of dancers, fire, and Vicci in a Xena: Warrior Princess outfit (to use her own words). Laughter ensued in the press room; one person referred to it as "hysterical." In my eyes, the strange and overblown production choices took the focus away from the duet, and that's never a good thing. I'm all for putting on a show, but not when it distracts from the music. (This was the same problem I had with the "special performance" by Pitbull and Ne-Yo; I wasn't enthused by a stint that required glow sticks, lighting effects, and a troupe of dancers that tried to cozy up to the coaches. It was the kind of flashy number that The Voice has always been so refreshingly different from.)
Cee Lo wasn't the coach I had an issue with, though - it was Christina. I don't know if she was having an off night, but she looked and sounded disinterested when the camera cut to her for comments on the other artists' performances. The only times she came alive involved Beverly. I'm not sure what was going on, but that coupled with choosing another of her songs for their duet made her look more than a little self-centered.
There was also a bit of awkward network promotion when Katharine McPhee was in the house to chat up her new midseason show Smash, which will follow season two of The Voice. I'm looking forward to that show, but the whole moment seemed forced and jarred me from the flow of the night.
The highlight, though, was the artists performing songs that had been specially written for them by various personalities. (The repeated use of the phrase "original songs" had me hoping they'd get to do material that they themselves had put together, but no such luck.) All of the song choices really represented the artists. Javier delivered the soulful ballad "Stitch by Stitch," while Vicci brought a growling desperation to "Afraid to Sleep," Dia was back at the piano for the quiet "Inventing Shadows," and Beverly rocked out one last time on "Lovesick." I have to confess that when host Carson Daly raised the idea of her possibly lighting the piano on fire, I was absolutely behind that. A flaming piano would have been something to see.
I was also amused when Christina called out Blake for using shadow boxes during Dia's performance, referencing the "mimes" comment he'd made to her earlier this season. That was exactly what I thought when I first saw the shadow boxes myself. I'm with Adam; they were distracting - but Dia's performance was solid regardless. It didn't surprise me when the song shot to the top of the iTunes charts Tuesday night, with Javier's single right behind it. I remember walking out Tuesday night thinking that while I was Team Adam all the way, I would not be upset if any of the four finalists won - they were all that great, and all had clearly earned their place in the finals.
That said, I was still up voting for Javier at 1 AM. I did mention that I'm loyal, right?
I've always been lousy with endings, so emotionally, I wasn't sure what to make of the finale. I had plenty of excitement, but at the same time, I didn't want to admit that everything would be over. I was actually in a bit of a funk as I arrived at the finale viewing party. (Until the brownies showed up.)
With an hour to fill, we saw the four finalists duet with various other artists. Vicci teamed with Train's Pat Monahan on "Drops of Jupiter," Beverly joined OneRepublic's Ryan Tedder (whose name Carson initially mispronounced) for "Good Life," Javier sang "Landslide" with the legendary Stevie Nicks, and Dia partnered with Blake's wife Miranda Lambert to tackle "The House That Built Me." All of these were great performances that again proved that these previously unknown artists could hold their own with more successful counterparts. While I was as blown away by Javier's duet with Ms. Nicks as Adam was, I also had a huge soft spot for Dia and Miranda's pairing, which was equally beautiful and perfectly representative of how far Dia had come. It was hard not to get a little misty when Blake told Dia that he considered her family. Not bad for people who were total strangers two and a half months ago, huh?
Carson asked each of the coaches to give final thoughts to their artists, and it was another moment that underscored how genuine they are: they didn't just spit out the usual platitudes. In fact, they all seemed to be grasping for the right words a little bit. How to sum up ten weeks in a few words? I certainly don't have a clue.
I will say that when Javier was announced as the winner, I threw my arms up and let out a yell of exultation...forgetting entirely where I was. (Apologies to anyone around me I may have startled.) If you're a sports fan of any sort, I'm sure you can understand what was going through my head at that moment. While I was overjoyed for Javier, it was also so much more than that. It was also a victory for my team, and for my team's coach, one of my heroes. I was celebrating the victory not just for Javier, but for Adam, and for Tim Mahoney, Casey Desmond, Devon Barley, Rebecca Loebe, Casey Weston, and Jeff Jenkins. It was even a little bit for me, as over ten weeks, I really had come to feel like part of Team Adam.
That was what made the next part so difficult. It was the final red carpet, and as such, possibly the last conversations I'd ever have with these people that I'd come to enjoy so much. I found myself less concerned with asking the right questions and more just trying to think of what to say to them, period. I knew that although there was the upcoming live tour and social media and all that, there was no guarantee I'd ever be face-to-face with them again. I was doing my interviews, but I also wanted to make sure that I took a few moments to let us just be people who had experienced something significant together.
For example, there was a great moment on the red carpet I really admired. Dia was asked how it felt to come so close and not win, and she talked about how happy she was for Javier and his family - that she was glad they had this opportunity and didn't have to worry about paying the electric bill. After all, she herself has been there; she told us that when it came time for her to record her last album, there was no money to go to the studio, so they recorded at her mother's house. "You can hear the dishwasher," she confided. She was gracious in defeat, as she could see through his eyes.
And wasn't that the point of this show? Giving a first, or second, or third chance to someone who deserved it? It's a pretty great thing that musicians like Dia and Javier, who have been through such hardships, will now get to go on to greater things. I can't imagine how that must feel.
(Speaking of that tour, you know who needs to be the opening act? Tim Mahoney. I can think of no one that it would make me happier to get to see perform live, and I'm sure I'm not the only one who feels that way.)
There was no better way to end it all than the way I did: having another face-to-face and heart-to-heart with Adam Levine. I thought I was blessed enough to share a few minutes with him last week, and figured I might say hello should we happen to cross paths. I did not expect him to recognize me and grab me in another hug. "Did you sneak out again?" he teased me (a reference to my exiting the studio early the week before, so he'd obviously noticed me nearly falling down the stairs), which caused me to crack up laughing. He asked how I was holding up, taking a moment to reassure me before he hugged me again. I think we mutually initiated the first one, but the second one was completely Adam. And just like when he'd hugged me last week, I went to pieces again. This time it was worse - because I could hear one of the other reporters going "awww," and because I knew how lucky I was to have met him not once, but twice. I'm always flattered when someone remembers me; it was even more touching considering it was my hero. This time, everyone saw me cry.
Fittingly, Javier was my last interview. It was great to look him in the eye and tell him how proud I was that he had carried the day. It wasn't just talking to the winner; it was congratulating a teammate on his victory. He's got an amazingly bright future ahead of him, as do several of his fellow contestants. In fact, I'd venture to say we'll be hearing from almost all of them, and soon.
Everyone's journey is far from over, and I'm lucky to say that includes me. I'll be seeing everyone again. I'm celebrating my 26th birthday at the Maroon 5 concert on July 22nd in Chula Vista. I'll be joining the top eight as they start The Voice Live on Tour on July 27 in Los Angeles. And both Adam and I will be back for season two of The Voice in January 2012. I'll be standing on that red carpet again in seven months, unless I somehow have a phenomenal audition and make the show. (Keep your fingers crossed.) I've got a lot left to do and I look forward to seeing where all these artists go as well.
All the same, it still felt like coming to the end of a chapter, even if it was the first chapter. You just know that even though things will continue forward, they won't be quite the same again...and maybe they're not supposed to be.
It's been a pleasure, dear readers, to share with you the ins, outs, anecdotes and behind-the-scenes notes from The Voice over the last ten months. I'm thankful to have you reading along, and to have the chance to not only give you the dish, but to also share my personal story - my thoughts, trials and triumphs. This has been one of my favorite assignments of my whole career, and I'm glad that you wanted to share it with me. I'll keep you with me for whatever happens next, and I hope you're here when we start all over again for season two.