Arianny Celeste Sizzles At Manny Pacquiao Vs Shane Mosley Pre-Fight Party At Las Vegas' Studio 54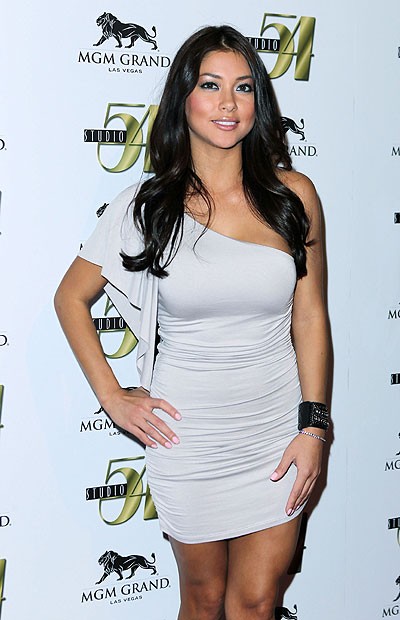 Last night, fans gathered at MGM Grand in buzzing anticipation of [Saturday night's] Manny Pacquiao vs. Shane Mosley fight. Partygoers made their way to Studio 54 where brunette bombshell Arianny Celeste hosted a pre-fight party as part of the Knockout Kings' Pound4Pound Weekend.

Jaws dropped and flashes snapped as Celeste arrived looking sexy in a body-hugging one-shoulder silver mini-dress. Celeste completed her look with black glittery stilettos, fierce bangles and perfectly coiffed locks. The "Ring Girl of the Year 2010" made hearts melt as she coyly smiled and posed for photographers and fans, and even signed autographs for her luckiest fans!
Before Celeste and her gorgeous girlfriends made their way into legendary nightclub Studio 54, she shared with media that she is cheering for Manny Pacquiao in [the] fight. Someone needs to alert Pacquiao that he's got the luck of one of Vegas' hottest ladies on his side!

Inside the party-pounding Studio 54, Celeste and her gaggle of girlfriends settled into their VIP table overlooking all of the dance floor action just as DJ Loczi took the reins for his signature night, Electric Dream (see video below). Celeste danced along to Loczi's killer beats and cheered as the LED screen lit up the iconic hotspot. Wanting to get a closer look at the action, Celeste made her way down to the stage where she joined Loczi and the stunning 54 dancers for a set. Loczi took to the mic and exclaimed, "Studio 54 - Arianny Celeste is in the house!" and the crowd went wild as cameras flashed.
The party continued well into the night as Loczi and live drummer Christopher Wight took Celeste and club goers on the dreamlike journey of Electric Dream, which you can catch every Friday at Studio 54.
Pacquiao won the fight in a lopsided 12-round decision. See the full recap at ESPN.com.