Ariana Grande And Jennette McCurdy's 'Sam & Cat' Cancelled After Just One Season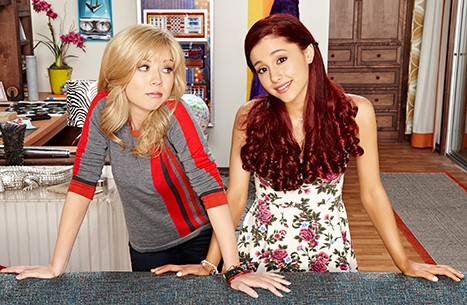 Despite garnering decent ratings, Nickelodeon has cancelled Ariana Grande and Jennette McCurdy's show "Sam and Cat".  The kids network has yet to give a reason for the abrupt cancellation, but it is rumored to be due to problems between the show's two stars.
In March, rumors swirled about McCurdy after she chose not to attend the 2014 Kids' Choice Awards due to issues she had with the network.  This also prompted speculation that McCurdy wasnt receiving the same pay as Grande.  That was something that was quickly cleared up by the "Problem" singer, as she took to her Twitter account to dispel the reports.  She tweeted that she and McCurdy "agreed upfront" that they would be treated equally on the show with regard to everything.  She shared, "The rumors circulating about our contracts and our salary not being equal are absolutely ridiculous and false.  I don't know who's putting these idiotic quotes out there but I thought I'd straighten it out and try to end this nonsense."
The network hasn't yet given a reason for the show's cancellation but warned fans of its doom with the show's season finale episode.  The episode titled "Getting Wiggy" revealed a short statement from Nickelodeon saying, "Nickelodeon will not be producing more episodes of Sam & Cat.  We are very proud of the show and its very talented cast and we wish them the best."
Grande also released a statement thanking the cast, crew and her fans.  Notably missing from her remarks are her co-star McCurdy.  Draw from that what you will.  You can read her full statement here.