'Argo' Attacked By New Zealand Lawmakers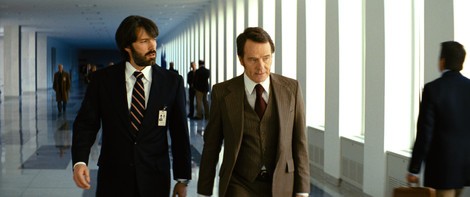 Ben Affleck and Argo screenwriter Chris Terrio have become public enemies in New Zealand after suggesting Kiwi embassy officials refused to shelter U.S. diplomats during the Iranian Revolution in the film.

Just weeks after Iranian officials launched an attack of the Oscar winning film for its portrayal of their country folk, New Zealand politicians have taken aim at the movie for a line Affleck's co-star Bryan Cranston utters.

The actor's CIA character, Jack O'Donnell, sums up the crisis at the beginning of the movie by stating, "The six of them (American diplomats) went out a back exit. Brits turned them away. Kiwis turned them away. Canadians took them in," and the throwaway line has upset lawmakers in New Zealand.

Politician Winston Peters raised the matter before Parliament, stating the line made New Zealanders seem like "a bunch of cowards." He added, "It's a diabolical misrepresentation of the acts of courage and bravery, done at significant risk to themselves, by New Zealand diplomats."

And his fellow lawmakers have taken his complaint seriously - Parliament has passed a motion declaring Affleck "saw fit to mislead the world about what actually happened".

The Associated Press reveals the Kiwis have every reason to be upset - because diplomats at the New Zealand embassy in Iran did in fact provide shelter, food and a hazardous ride to the airport when the Americans left with CIA agent Tony Mendez, who is played by Affleck in the film.

However, neither the British nor New Zealand embassy officials sheltered the Americans for long.  Affleck has previously defended decisions he made as director, stating, "You walk a fine line. You are doing a historical movie and naturally you have to make some creative choices about how you are going to condense this into a three-act structure."

Meanwhile, New Zealand's Prime Minister, John Key, has spoken out to play down the fuss over the line in Argo, saying, "New Zealand sees itself as a country that always wants to lend a hand to help people. But in the end, this is Hollywood, and they do make movies. And a bit like when they transfer a book to a movie, often it's a little bit different. So, look, I think we've made our point and we should probably move on."