Are You Ready For...Brit & Alex? Check Out Their Debut Single 'Let It Go'

Production legend
Dallas Austin
calls them "my new
TLC
." They're stopped in the street on a daily basis. Labels have been trying to get them for years;
Jimmy Iovine
, Chairman of Interscope Records, heard two songs and signed them on the spot. There's nothing overnight about the imminent success of 22-year-old identical twins
Brit and Alex Smith
(
Brit's the platinum blonde
) and the release of their first single 'Let It Go' is the culmination of six years' hard work.
'Let It Go' is the perfect first taste of what the singing, songwriting duo have in offer: its bridge tells the story of a girl "on the outside looking in, wondering 'where do I go from here?'". "It's about breaking free," Alex says. "As a debut single 'Let It Go' made so much sense for us. We want everyone to hear what we've been doing!" As the song goes, "I wanna show the world my time is now, I won't hold back - I'm coming out". There's no doubting these girls' ambition and drive, matched only by an extraordinary vision and self-discipline which has seen them decline various quick and easy shots at fame over the last few years.
The sisters were born in Connecticut, 45 minutes apart. Having a career which has spanned acting - at the age of three both sisters won the role of Jessica in the US soap
One Life To Live
- through to becoming the face of John Frieda's memorable Sheer Blonde ad campaign, which included the girls singing a song called 'Are You Ready', they are now stepping up to unleash their musical identity, which they refer to as 'melting pop'.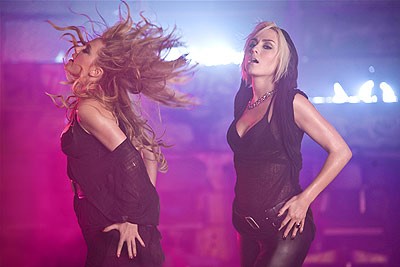 Their debut single also appears on the soundtrack to the forthcoming Touchstone Movie,
Step Up 2 The Streets
, which is released on April 7th. This Summer, Brit & Alex will release their debut album, produced by Dallas Austin (TLC,
Sugababes
) and Tricky Stewart (
Mary J. Blige
,
Rihanna
).
As Jimmy Iovine commented - "Brit and Alex have a unique appeal in that their music is so diverse. The minute I met the girls and heard their music I knew they had something fresh that was special to them. We're looking forward to great opportunities as we work with them in the years ahead."
Brit & Alex' MySpace page
Watch "Let It Go":
Windows
|
Real
(Streaming audio and/or video links may expire without notice)