Are Kim Kardashian And Kanye West Already Moving In Together?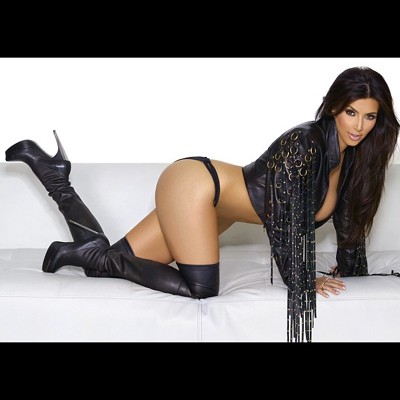 Kim Kardashian has a sexy message for fans who helped her reach a milestone on her Instagram page this week - the above image.

The Keeping Up With the Kardashians star posted the pic on Thursday along with the message, "Thanks to all you 2million sexy beasts out there for following me on Instagram! So heres a little present of me in full on beast mode! LOL"

Kim, who is currently dating rapper Kanye West, just put her house on the market, as learned by E! Online; and they site also reports that Kanye has put his digs on the market too. Wonder if they'll be moving in together soon.

Kim reportedly put her pad on sale because she wants to move to a more quiet and secure neighborhood; and she's asking $5 million for the residence - $1.6 million more than what she paid for it just two years ago.

And Kanye's home, which he bought nine years ago, is back on the market after listing it two years ago for nearly twice what he paid at $4 million.

With the real estate market the way it is, it doesn't sound like either will be packing up anytime soon.