'Archer' Soundtrack Album 'Cherlene' Is A Stroke Of Pure Genius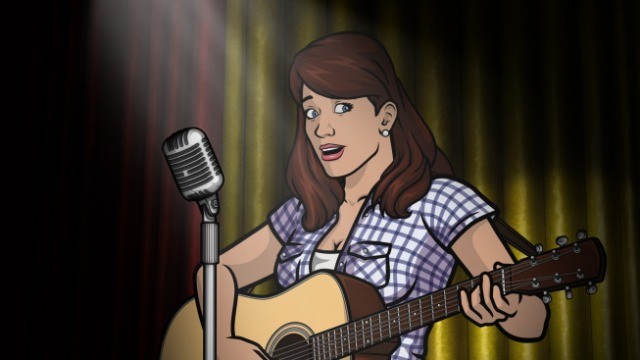 Someone better give Adam Reed and Matt Thompson a gold star, because not only have they pulled off a wild reinvention of Archer in its fifth season, but they've also commissioned a tie-in album that stands on its own as an entertaining country music record.
SPOILER ALERT: This review contains references to the currently airing fifth season of Archer, including one tidbit about tonight's episode.
If you've been watching Archer - retitled Archer Vice - so far this season, you know that one of the latest schemes of its dysfunctional cast is trying to turn mentally unstable former secretary Cheryl/Carol Tunt into country music superstar Cherlene.
Reed and Thompson have taken full advantage of this idea, working songs allegedly by Cherlene into the episodes, and at the Television Critics Association press tour in January, it was announced that those tracks would be available in a digital-only release appropriately titled Cherlene.
On the surface, this sounded like taking the concept one step too far. After all, an Archer soundtrack wasn't necessary; up to this point, it would've pretty much amounted to twelve versions of Kenny Loggins' "Danger Zone." But the creatives involved came up with a collection that's a good album first, and a TV tie-in second. Even if it does include a duet version of "Danger Zone," which will be heard near the end of tonight's episode of the show.
Produced by Kevn Kinney (of the band Drivin 'n' Cryin) and featuring Jessy Lynn Martens as the singing voice of Cherlene, the twelve-track album contains a number of songs that will become earworms for Archer fans and music aficionados alike, particularly third number "Midnight Blues."
All the singles heard on the show are here as well, including "Baby Please Don't Go," which was played over the montage at the end of the Archer season premiere, and the cover of Jerry Reed's "East Bound and Down" used in last Monday's episode.
Archer fans will no doubt give Cherlene a listen due to its association with the series, but it should also be listened to by anyone who enjoys country music, or even music in general. Whether it's uptempo tracks or slower ones, a countrified cover of an 80's hit or an original track, Martens scores with her clear and compelling vocals that will hopefully garner her some further recognition. She perfectly performs an assortment of songs that wipes the floor with the generic pop soundtracks we're sadly too used to these days.
Is it too late to ask for a Cherlene concert tour? Because based on this album, we'd be first in line to buy tickets.
Cherlene: Songs From The Series Archer is now available on iTunes and Amazon MP3; it is not released on CD. An all new episode of Archer airs tonight at 10 PM ET/PT on FX.
(c)2014 Brittany Frederick. Appears at Starpulse with permission. All rights reserved. No reproduction permitted. Visit my official website and follow me on Twitter at @tvbrittanyf.