Archer Live Was A 'Hate Letter' To Fans; Scoop On New Season From Cast And Producer
When asked why do a live performance of an animated show, one of the cast members of Archer said it started as a "hate letter" for fans. But at the last tour of the show known as Archer Live!, held in New York this past Saturday, there was nothing but love for the team from hundreds of adoring fans.
In a pre-show cast press Q&A with stars H. Jon Benjamin (Agent Sterling Archer), Aisha Tyler (Agent Lana Kane), Jessica Walter (Malory Archer), Chris Parnell (Cyril Figgis), Amber Nash (Pam Poovey), Lucky Yates (Krieger) and executive producer Matt Thompson, reporters learned how much the cast had enjoyed doing Archer Live! since they rarely get to see each other in person—they often record their lines alone in sound booths.
In addition, Thompson remarked how editing is incredibly tight on the TV show. A scene might run two minutes, for instance on the show, but live, it would often run about three and a half minutes.
Archer Live! consisted of a number of skits besides cast readings from past episodes. The night opened with a fake Archer lookalike badly dubbing lines from Benjamin off-stage. The Archer lookalike convinced an attractive blonde to join him on stage for a kiss, at which point Benjamin appeared, stood on a milk crate and tried to convince the laughing hysterically woman to kiss him. (She eventually did and he mocked her throughout the rest of the show.)
During the show, various cast members fired a t-shirt cannon into the crowd while Danger Zone played. We learned halfway through the show that the real t-shirts had been shipped accidentally to Irving, TX (we were at the Irving Plaza in New York) and Thompson promised anyone who received one of the t-shirts – which were supposedly purchased at a nearby drug store – to come backstage afterwards for a cast signing.
During the press Q&A and live performance, there was also plenty of scoops to be had. Our lips are sealed (by request) on what happens in the season finale, but here's a few things to look forward to:
- Malory remarries. Her husband, Ron Cadillac, is voiced by Walter's real life husband, Ron Leibman. He'll appear in a number of episodes, but is featured prominently in a Midnight Run-inspired episode called, fittingly, Midnight Ron. It's the fourth one of the season.
- On the eventual season 4 Blu-Ray, there will be a parody of Japanese anime porn starring Krieger with many tentacles.
- Fellow FX star Timothy Olyphant guests in the second episode as Archer's former best friend.
- Woodhouse will get his own episode this season where it's learned he looks remarkably like The Pope.
- Archer's fear of cyborgs becomes an issue when Krieger promises new legs to Gillette in the third episode.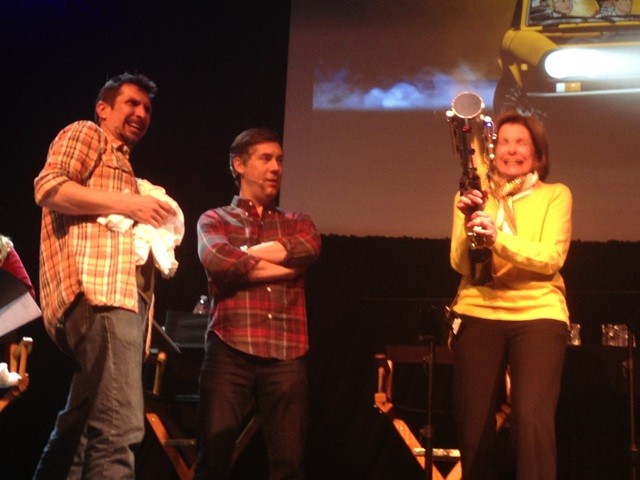 With Walter in attendance, Arrested Development came up a number of times during the press Q&A and Archer Live! (Benjamin feigned fake annoyance at it.) As for Arrested Development alums continuing to guest on Archer, Tyler says Jason Bateman should guest star, while Walter confesses that Michael Cera has expressed interest in it.
Having seen the first four episodes of the season, I can confidently say Archer fans will be extremely happy to have their show back. The first episode, for instance, features a much-discussed Bob's Burgers cross-over that Benjamin described sarcastically during the press Q&A as, "it was… really emotional."
Archer returns tomorrow night, January 17, at 10 pm ET on FX.