'Archer' Is Back! Season 3 DVD Review and Season 4 Preview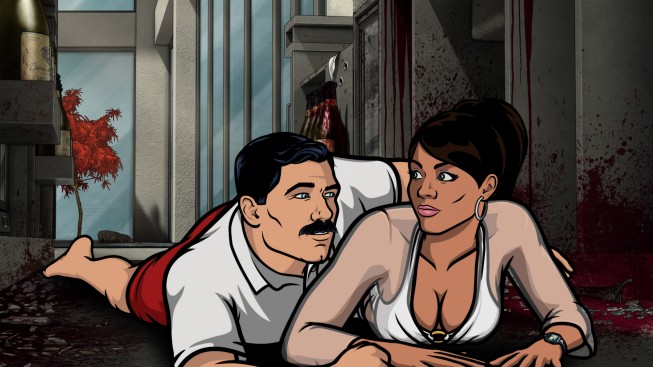 You'd better call Kenny Loggins, because you're about to re-enter the Danger Zone. Tomorrow night kicks off season four of FX's hilariously wrong animated series Archer, and here are a few things to look forward to in the new episodes - plus a review of the recently released Season 3 DVD.
Season three of Archer was as funny as it's ever been, and the two-disc DVD set is equally amusing, as well as equally inappropriate. The episodes - which saw Archer and the other dysfunctional spies of ISIS go everywhere from the deep South to space in a variety of adventures that would make any live-action comedy jealous - are transferred well on DVD, improving upon their broadcast versions. There's also a small but lively selection of bonuses, including the show's Comic-Con 2012 panel for anyone who wasn't able to make it to San Diego last July.
Other extras include a handful of amusing commentaries, an extended (but not significantly so) version of the "Heart of Archness" three-parter, a fake trailer for Archer's sequel to Gator, and "Book-on-Tape Fail," which is a snicker-worthy attempt by Archer to prepare an audio version of his recent book How to Archer. It's funny, but also somewhat of a double-edged sword because it will make you wish that there was an audio version of How to Archer, and there isn't.
The best of the special features is "Cooking with Archer," which is as much of a bad idea as it sounds. The segment includes a guest appearance from celebrity chef Alton Brown of Good Eats fame, and Brown's deadpan delivery is a perfect counterbalance to Archer's attitude. Their unlikely collaboration ends in a laugh-out-loud way. It's undoubtedly the most random DVD extra since Futurama included an episode of "Everybody Loves Hypnotoad," but it's also the funniest piece.
You can order season three of Archer on both DVD and Blu-Ray at Amazon.com.
The set is a perfect lead-in to season four, which continues to push the boundaries of both comedy and taste - and that's a good thing. The season premiere, "Fugues and Riffs," starts with a hilarious nod to the fact that Archer star H. Jon Benjamin also voices the main character on FOX's Bob's Burgers: Archer has amnesia and believes that he's Bob. What's traumatized him so much that he's forgotten his own identity? His tyrannical mother Malory (a continually perfect Jessica Walter) has gotten married, and her new husband appears in a few episodes.
It's not just Archer that's having all the fun, either. Another highlight comes in the second episode, when Archer is reunited with a former friend and colleague, voiced by Justified star Timothy Olyphant. Olyphant shows off his underappreciated knack for comedy, while the reaction to his character by Archer's current colleagues is more than amusing. And in the fourth episode, "Legs," keep your eyes open for a brief cameo from double agent Conway Stern, from season one's "Diversity Hire." With episodes like these, Archer continues getting better - and more outrageous. Just the way it ought to be.
Archer returns tomorrow night at 10 PM ET/PT on FX.
For more from Brittany Frederick, visit my official website and follow me on Twitter (@tvbrittanyf).
(c)2013 Brittany Frederick. Appears at Starpulse with permission. All rights reserved. No reproduction permitted.