'Archer' 2.06 'Tragical History' Review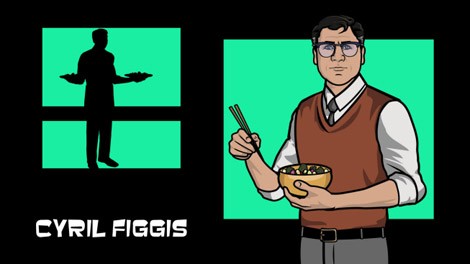 If you didn't get enough with Woodhouse last week, this week on Archer it's Cyril whose suffering is brought to the forefront. Except his is better because it involves ninjas. Everything is better with ninjas.
After getting smacked down by everyone else again, the ISIS comptroller meets a guy named George (and his lady ninjas) at the local bar. The following day, as everyone else is hungover (Lana admits she was "blackout drunk"), he's surprisingly perky as the ISIS computer network is infected with a pirate virus, even when everyone tells him off. We find out that at George's suggestion, Cyril snuck into the mainframe and loaded the virus, intending to get rid of it himself and become a hero to his corworkers. George is a computer security expert who wants to show that current computer systems "have flaws that can be exploited," not unlike Thomas Gabriel in Live Free or Die Hard, only not quite as cool in a megalomaniacal way.
With the identity of every ISIS agent at risk when the virus turns out to be an evil plan, the team must find a way to beat their own security system in order to defeat it. This goes about as well as you'd expect. While Archer predictably tries to shoot his way out of the situation (with an X-Men reference that makes my inner comic book nerd squeal), Carol/Cheryl decides to dump computers down the elevator shaft. And then there's this classic exchange:
Malory: Most secret agents don't tell every harlot from here to Hanoi that they are secret agents.
Archer: Then why be one?
Cyril tries once again to save the day, confronting George. When that doesn't work, he's forced to tell Archer, in order to get his help with the situation. (Of course, this comes with a price, because Archer never does anything out of the goodness of his heart.) Though he'd rather sleep with the ninjas, Archer is forced to do battle with them and George, but it's Cyril who comes to the rescue. Getting Archer's gun, he shoots George's computer. Does he get any credit for keeping the list of ISIS agents out of the wrong hands? Of course not.
"Tragical History" shines a light on Cyril, who's never quite recovered from being dumped by Lana thanks to that pesky sex addiction. (One wonders if he'll ever find out that he's the father of baby Seamus.) It's not hard to understand why the guy feels so downtrodden; no one gives him any respect. I'm all for any episode that lets us into the heads of these crazy characters. Archer doesn't have to rely strictly on the title character being a buffoon to be funny; all of these people are the most messed-up fictional people that I know. And I want to know all of them, even as weird as they are. Can a Cheryl/Carol episode or a Ray episode be far behind? I'd watch those. I don't know if I could stand working at ISIS without going crazy, but I suppose that's a requirement. It's completely insane. And that's what makes it so unbelievably brilliant.
For more on Archer, check out the show category at my blog, DigitalAirwaves.net.