April Controversy In GQ: Shia LaBeouf And Rielle Hunter's Provocative Interviews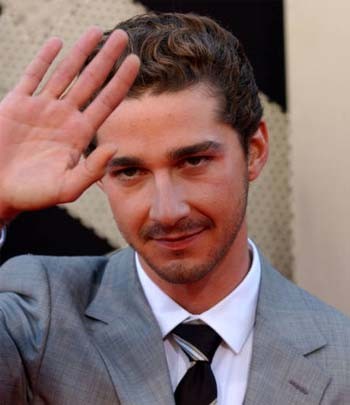 GQ can count on one thing next month, not just the tax deadline, but the controversy that next month's magazine is going to stir up.  For starters, coverboy Shia LaBeouf dishes on everything from new girlfriend Cary Mulligan, reality TV star Khloe Kardashian, and finally Michael Douglas's family problems. 
Sharing cover story duty is John Edward's former mistress, Rielle Hunter, in a provocative photo spread that has already generated a lot of backlash and harsh words for and from Ms. Hunter.

Looking every bit the dashing Wall Street trader from the upcoming film, "Wall Street 2," Shia LaBeouf dons tailored suits and smart briefcases to give a surprisingly candid interview.  The revelations started with his rumored relationship with co-star Mulligan.  LaBeouf and Mulligan have been a noticeably low-key couple who make a point to avoid the spotlight – priming pure speculation on Hollywood's part.  Well GQ got what Hollywood was looking for – confirmation. 
In the interview, the star somewhat hesitantly discusses his relationship with Mulligan, but that doesn't stop him from speaking highly and affectionately of his new girlfriend:  "She's an unbelievably thought-provoking actress, the most talented actress I've ever met in my life, by leaps and bounds."  Apart from maybe indirectly insulting Megan Fox,  with whom the star worked with on the "Transformers" movies, this interview marks one of the few times in which LaBeouf has spoken about Mulligan.

Unfortunately, while LaBeouf had high praises for Mulligan, he didn't have such nice words to say about Mrs. Khole Kardashian Odom.  LaBeouf discusses the car crash that left his hand completely destroyed. While it's obvious he harbors a grudge for the other party involved, who reportedly ran a red light, he is just as angry at Kardashian Odom. He says, "I'd be watching the news, and they'd play my car crash, and every once in a while Kim Kardashian's sister would jump on TV and preach to me from the red carpet (sic). And I'm so upset, man.  I'm so angry." While the Kardashians have become famous for always finding their way to the lime light, in the future it might be a good idea for them to leave some questions unanswered on the red carpet.
The controversy in LaBeouf's interview peaks at his discussion of Michael Douglas and the arrest of his son, Cameron Douglas.  While Douglas has discussed the incident with his son publicly, LaBeouf gives a more intimate view of the actor's state of being during the filming of their new movie, "Wall Street 2". He says, "Michael Douglas was an open wound on the set. That dude is in pain. He was emotional putty on the set. A struggling man. We filmed a struggling man."  Douglas's emotional torment coupled with the obvious chemistry between LaBeouf and the film's leading lady, Mulligan, should create compelling performances its lead actors and make "Wall Street 2" worth watching.

The Lebouf wave aside, the interview and pictorial of John Edward's former mistress Rielle Hunter may prove to be the true meter mover.  After images of Hunter's pictorial leaked on the internet, Hunter denounced the photographs while speaking to ABC tear factory, Barbara Walters.  Walters reported on "The View" that the former mistress "cried for two hours" after seeing the photo of her in a men's button-down shirt with no pants on and the other image of of her holding her daughter with her midriff showing. Hunter called the images "disgusting."

Hunter's overwhelmingly negative response to her feature in GQ begs the question – why would she pose for these kinds of photos in the first place? Walters quoted Hunter as saying "she went with the flow" and trusted the photography, but GQ reporter Lisa DePaulo went on "Good Morning America" on Tuesday and slammed Hunter for her recent statements. DePaulo adamantly defended the pictorial by saying, "Rielle is a smart woman. She knows what she wore and what she was doing in the photo shoot."

Here, here and three cheers for DePaulo! I guess one can argue that if Hunter didn't have enough foresight to anticipate what kind of mess an affair with a politician can make, then maybe she couldn't fully comprehended the suggestive nature that comes with posing without pants.  That seems more than unlikely. The odds are probably higher that a Kardashdian sister will win an Oscar. Either way, Hunter's pictures have already been published and her interview, as well as LaBeouf's interview, will be in the April edition of GQ. So happy tax and gossip season, everyone!
Story by Nicole Bagood
Starpulse contributing writer