Anton Yelchin & Felicity Jones Star In 'Like Crazy,' On Blu-ray & DVD March 6th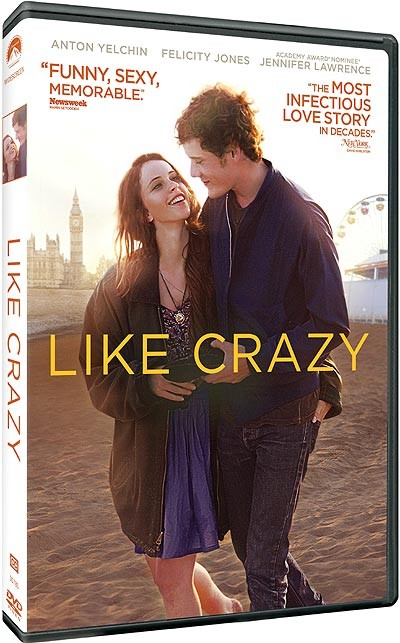 Called "crazily inventive and totally irresistible" (Peter Travers, Rolling Stone), the touching, beautiful and romantic drama LIKE CRAZY debuts March 6, 2012 on Blu-ray and DVD with UltraViolet™, for Digital Download and On Demand from Paramount Home Media Distribution. 
Director Drake Doremus expertly captures the thrilling exuberance and heartbreaking fragility of first love in "the rare love story that honestly conveys the giddy joys and sorrows of two people besotted with each other" (Claudia Puig, USA Today).  Featuring "star-making performances" (Kenneth Turan, Los Angeles Times) by the incandescent Felicity Jones—who was given Breakthrough Awards by the National Board of Review and the Gotham Awards, as well as a Special Jury Prize at Sundance for her performance—and the terrifically earnest Anton Yelchin—who received a Spotlight Award at the Hollywood Film Festival and Special Recognition for a Breakthrough Performance at the Hamptons International Film Festival— LIKE CRAZY explores how a young couple faces the very real challenges of being apart…and of being together.
The LIKE CRAZY Blu-ray includes commentary by director Drake Doremus, editor Jonathan Alberts and cinematographer John Guleserian, deleted scenes with optional commentary and alternate scenes with optional commentary.  The DVD includes commentary.  All Blu-ray and DVD releases available for purchase will be enabled with UltraViolet, a new way to collect, access and enjoy movies.  With UltraViolet, consumers can add movies to their digital collection in the cloud, and then stream or download them – safely and securely – to a variety of devices.
LIKE CRAZY Blu-ray
The LIKE CRAZY Blu-ray is presented in 1080p high definition with English 5.1 DTS-HD Master Audio and English Audio Description with English, English SDH, French, Spanish and Portuguese subtitles.  Special features are as follows:
o   Commentary by director Drake Doremus, editor Jonathan Alberts and cinematographer John Guleserian
o   Deleted Scenes with Optional Commentary
o   Alternate Scenes with Optional Commentary
LIKE CRAZY DVD
The DVD is presented in widescreen enhanced for 16:9 televisions with English 5.1 Surround and English Audio Description and English, French and Spanish subtitles.  The disc includes commentary by director Drake Doremus, editor Jonathan Alberts and cinematographer John Guleserian