Anthony Weiner Latest Public Figure Caught With Nude Online Photos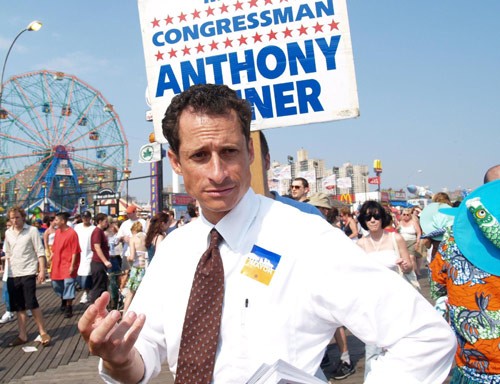 When will we learn that nothing on the Internet completely disappears? This week, Congressman Anthony Weiner became another public figure with his dirty laundry aired out after someone got a hold of his revealing photos that he posted online himself.
Yesterday, Weiner apologized for the gaffe at a press conference - but the damage is already done. Rumors of further leaks are surfacing, and one can hope the photos only go so far. Before you - for some odd reason -decide to post nude photos of yourself online, take these stories of celebrities "over sharing" to heart.
Vanessa Hudgens: Three sets of nude photos have been leaked publically - three! Hudgens claims that she intended to send her photos just to her then boyfriend Zac Efron via her cell phone. However, even data sent by phone is not 100% secure and Vanessa had to learn the hard way. Her Disney image was shattered, but she continues to act in movies.
Blake Lively: The latest Hollywood over-share scandal involves Lively. Alleged nude photos of her are showing up everywhere, and her denial that they were of her has only egged on a hacker to release more clearly showing her face.
Jesse McCartney: In January of last year McCartney was battling a nude photo scandal. He insisted the photo was altered to make him appear nude, while others claimed it was revenge from an ex. The scandal has since died down without much closure.
Kat Dennings: The Thor star had to deal with some of her personal photos being leaked. The topless snaps appeared to be sent to someone else, and either that person or someone else entirely got a hold of them. Attorneys sent cease-and-desist letters to websites, confirming they were her. She simply posted "Heartbroken" on her Twitter page.
Rihanna: Photos of the Man Down singer were published online in 2009, featuring her in various states of undress. Based on the messages within the photo, like "Miss You" written on the wall, they were no doubt sent to now ex-boyfriend Chris Brown. 
Tito Ortiz: The former UFC champion claimed his cell phone was hacked last week when a nude photo was sent to all of his connections. The photo inexplicably remained online for quite sometime despite this message.
Hopefully celebrities can slow down with the whole "over sharing" business - and if not, maybe they can take the advice of Reese Witherspoon: "When I came up in this business, if you made a sex tape, you were embarrassed and you hid it under your bed and if you took naked pictures of yourself on your cell phone, you hid your face. Hide your face!"