Anthony Kiedis Reduced To Tears After Watching Justin Bieber's Movie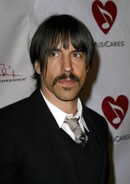 Reformed rock wildman Anthony Kiedis broke down in tears during a flight - as he watched Justin Bieber's movie Never Say Never.

The Red Hot Chili Peppers frontman was flying to Los Angeles and decided to tune in to the Baby hit-maker's tear-jerking documentary on the in-flight entertainment system.

He became emotional as he watched scenes of fans desperate for tickets to Bieber's gigs, and he wasn't alone in finding the movie hard to bear - the band's producer Rick Rubin was also sobbing.

Kiedis tells Q magazine, "I sat on an airplane recently, coming from Hawaii to Los Angeles, with Rick Rubin just across the aisle, watching the Justin Bieber movie, Never Say Never. I cried twice during that film and I want the world to know that!

"They were doing this very cheesy giveaway of concert tickets to 16-year-old girls. The cheesiness didn't matter - it was the reaction of the kids. When you saw those little girls crying deliriously, I lost it. I decided to tell Rick afterwards and he said, 'I was also sobbing during that point in the movie.' There you have it."