Anthony Hopkins Admits Phoning It In, Says 'Thor' Director Kenneth Branagh Brought Him Back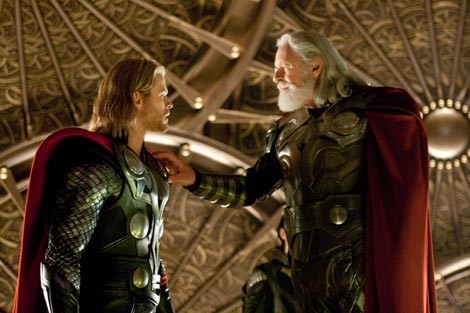 Academy Award Winner Sir Anthony Hopkins is one of the world's most respected actors, but he says we haven't even seen his best work lately. It took playing Thor's father, and director Kenneth Branagh, to return Hopkins to his former glory.
"I've gotten lazy over the years," Hopkins said. "I've been sort of phoning it in. I've been around so many years, but I loved working with Ken. I've got a lot of muscle in me and a lot of energy. That's a case in point where he helped me. A great director, because of his background, being a great actor, really great actor, he took on everyone. He's fierce, absolutely fierce. He doesn't give a damn what people say or think. He's just fierce and that's what he did for me. I said to him, 'You gave me my chops back. You gave me my confidence back.' That's the greatest compliment I could pay anyone. That's what Ken did just to get me to go over the edge."
The scene that really brought back the old Sir Anthony: "We did a couple of takes and that seemed to work well. There were some technical things we had to do to rehearse it. We were having a good scene and it seemed to work well, it was just before lunch, and Ken in his charming and inimitable way said, 'Just one more.' He's like that. He doesn't micromanage but what he does, he pushes you so he gets the best out of you. You do a lot of takes but it gets everything out of you. We talked a lot about our fathers, the complex relationship between fathers and son. He talked about his dad and I talked about my father, so he said, 'Just one more, the grief, the grief.' So he pushed us over the edge."
So a note to other directors, if you like what Sir Anthony is doing, you can get even more out of him. "A really great director pushes the actor. Actors need directors. It's just like jumping out of a plane I guess, not that I've ever done that. If you get a moment of nervousness or laziness, he said, 'Go on, boom!' He gives you the push so I'll never forget that. He's responsible for that because given my own device, I'd have gone for lunch."
Thor opens Friday.