Another Look At the Cast Of 'Star Trek'

The reviews for
Star Trek
have been mostly positive, so it's okay to assume the sequel that Paramount gave the go ahead to a few weeks ago is going to happen. Here's a quick look at the "cast of unknowns" who actually have a lot of acting credits between them.
Chris Pine
starred opposite
Anne Hathaway
in
The Princess Diaries 2
and Lindsay pre-rehab trips
Lohan
in
Just My Luck
. He was nearly unrecognizable in
Smokin' Aces
, but his least hated project was probably the little seen Bottle Shock.
After a few the less said the better television show appearances,
Zachary Quinto
joined the cast of Heroes in 2006 as the character Sylar. His casting was probably the least hated out of all, and that's saying a lot.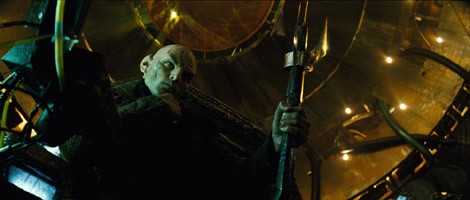 Zoe Saldana
played second to
Britney Spears
in her one and only film
Crossroads
. She's also backed up
Ashton Kutcher
(
Guess Who
),
Kirsten Dunst
(
Get Over It
), and Mariah's husband
Nick Cannon
in
Drumline
. It's nice to see her starring on her own poster for once.
Bringing some credibility to the role of the villain is
Eric Bana
. Aside from working with
Steven Spielberg
on the film
Munich
, Bana has played everything from the Incredible Hulk (Hulk) to King Henry (
The Other Boleyn Girl
). He's even following up Star Trek with the
Judd Apatow
film
Funny People
.
As for the rest of the cast…
John Cho
steps into the role of Sulu.
Simon Pegg
of comedies like
Shaun of the Dead
plays Scotty.
Karl Urban
(Leonard "Bones" McCoy) will be recognizable to the Lord of the Rings fan base after starring in two of the three films.
Anton Yelchin
has gone from less seen films like
Alpha Dog
and
Charlie Bartlett
to two summer blockbusters with
Terminator Salvation: The Future Begins
premiering just weeks after Star Trek.
Even if you still don't recognize any of the above, the original Spock
Leonard Nimoy
plays the role in a brief cameo.
Story by
Lauren Attaway
Starpulse contributing writer