Another Classic 'HIMYM' Twist On 'The Rehearsal Dinner'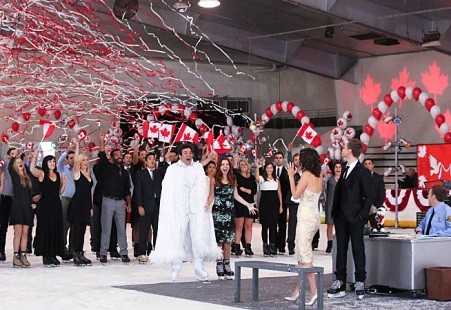 How I Met Your Mother returned Monday for another piece of Barney and Robin's wedding weekend.  In typical HIMYM fashion, we got a look at near the end of the story and then found out how we got to that point.  Barney is being held in the back of a laser tag place by a security guard, and Robin is furious at him that he is ruining their rehearsal dinner. 
For a little back story, we go back a few months at the bar with the gang talking about the planning for the wedding.  Barney says he would love to have a laser tag rehearsal dinner, and Robin says that she would love to have the ceremony in Canada.  This spurs a classic run of Canada jokes. 
"Canada? What are we going to walk down the aisle to Crash Test Dummies?"
"Canada? Are you going to rent a regular dogsled or a stretch?"
"Canada? What are you going to be registered at Tim Horton's?"
Robin says that if they are going to have to make compromises if they are going to have a successful marriage.  They agree to have the wedding in New York, but no laser tag rehearsal dinner.  They also agree to no more surprises after Robin pranked Barney at his bachelor party and Barney got her back. 
Nevertheless, Barney gets it into his head that Robin is indeed planning a surprise laser tag rehearsal dinner.  The night of the rehearsal dinner, Barney is obsessed with the laser tag thing.  He is giving everyone the third degree, except for Lily.  Barney says that Lily would never be told because she can't keep a secret.  Lily, in fact, has been harboring two big secrets: the fact that Ted is moving to Chicago, and that Marshall has accepted the Judgeship.  She blurts out about Marshall, and the fact that he will not be going to Italy. 
Robin comes into the room looking very upset.  She says that Barney went down to the laser tag place looking for a surprise rehearsal dinner and got arrested when he got mad because he couldn't find it.  He was being held in the back of the place by a security guard, and Robin says she's going to over there to get him, which brings us back to the opening scene of the episode.
Robin is furious.  Barney continues to spout on about all of the crazy signs that there was a surprise at the laser tag place.  However, it was all a set up for another classic HIMYM twist.
"Fine, you're right Robin.  Marriage isn't about pranks, and telling elaborate lies to set up those pranks, or hiring actors to play security guards, or spending lots of money on giant fake laser tag signs, it's about honesty. You're a size 6 skate right?"
It turns out that it was not a laser tag place, but actually an ice rink.  Barney had brought Canada to Robin for a surprise skating party rehearsal dinner.
The writers of HIMYM definitely know how to take you the perfect amount of distance down the rabbit hole before revealing the twist.  I was getting pretty annoyed with this episode to be honest, but the twist ending did redeem it somewhat.  The episode was the eighth written by Chuck Tatham.  He has a lot of experience writing for Robin in episodes such as "Little Minnesota" and "Duel Citizenship."
HIMYM is off next week, so the legend continues Monday December 16th at 8/7c with "Bass Player Wanted," the story of how Ted's future wife was chosen to play at the wedding.