Annie Lennox Spotted With New Boyfriend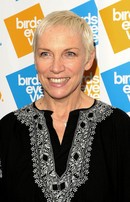 Twice-divorced singer Annie Lennox has proved she's found love again after she was pictured holding hands with her new boyfriend.

The former Eurythmics star was rumored to have fallen for South African gynecologist Dr. Mitch Besser earlier this year after they met through his charity work in Africa helping mothers infected with HIV.

The gossip was never confirmed, but Lennox has now been pictured enjoying a romantic stroll with Besser close to her London home.

A source tells Britain's News of the World, "The pair seemed very much in love and were deep in conversation as they were walking. Annie looked like she was having a good time. At one point they put their arms around each other as they walked. They're clearly very comfortable in each other's company."

Last year, Lennox branded men "a huge disappointment in relationship terms" and voiced her fears she would never find a long term partner.

She divorced her first husband, Radha Raman, in 1985 after a year-long union, and her second marriage to record producer Uri Fruchtman collapsed in 2000 after 12 years.