Anne Murray Releases All-Star Collaborative Album, 'Anne Murray Duets: Friends & Legends'

Music icon
Anne Murray
has sold more than 50 million albums in a distinguished career that spans four decades. On January 15th, Manhattan/EMI will release
Anne Murray Duets: Friends & Legends
, an exceptional 17-track collection of her top hits and favorites, newly recorded as duets with some of the world's top female recording artists.
Anne Murray Duets: Friends & Legends
showcases a wide variety of Anne's favorite female vocalists. Among the album's tracks and collaborating artists are "Snowbird" with
Sarah Brightman
, "You Needed Me" with
Shania Twain
, "Nobody Loves Me Like You Do" with Anne's daughter Dawn Langstroth, "Danny's Song" with
Martina McBride
, "Another Pot O' Tea" with
Emmylou Harris
, "A Little Good News" with
Indigo Girls
, "Cotton Jenny" with
Olivia Newton-John
, "Could I Have This Dance" with
Amy Grant
, "Daydream Believer" with
Nelly Furtado
, "A Love Song" with
k.d. lang
, "Time Don't Run Out On Me" with the song's writer,
Carole King
, and more.
In 1979, Anne and
Dusty Springfield
each recorded the song "I Just Fall In Love Again." Anne's version became a hit single that garnered her Canada's Juno Award for "Single of the Year" in 1980. Anne and Dusty remained friends until Dusty's passing in 1999, and for Anne, releasing an album with this type of sisterly theme wouldn't seem complete without Dusty's inclusion. With the blessing of the Springfield family and estate, a new version pairing Dusty's original with Anne's newly recorded vocals is featured on the album.
Anne Murray Duets: Friends & Legends
was produced by one of the most respected music producers in the world,
Phil Ramone
(
Tony Bennett
,
Bob Dylan
,
Elton John
,
Barbra Streisand
,
Billy Joel
), who counts 14 Grammy Awards and 32 Grammy nominations among his many honors. Together, Anne and Phil decided they would treat the songs on their own terms and not adhere rigidly to the arrangements of Anne's classic versions. While Anne had designs on how she imagined the arrangements, she gave Phil free rein to rework the songs.
"We approached the sessions as if we were just handed these songs and told to make this record," explains Ramone. "While arrangements were changed, there are also licks on some songs that I didn't mess with. We stayed true to the song."

Working with Anne for the first time, Ramone adds, was an easy task. "What I love about Anne is there are no words minced about whatever she feels," he says. "This is not a person you have to think, 'Will she tell me the truth?' When we met for a few hours in Michigan before we started, we agreed we wanted to bring some daring ideas and some freshness to this album."
"I said to Phil," joked Anne, "The only reason I asked you was that I'm the only singer left that you haven't worked with!"
"I've done duets throughout my career," Anne says. "I did duets when I started out on (CBC Television's) 'Singalong Jubilee.' I did a duets album in 1971 with
Glen Campbell
. Growing up I did lot of group singing at school and sang with my brothers. I've always loved singing harmony."
Since releasing her
debut album
in 1967, Anne Murray has been honored with a spectacular number of awards. She is the proud recipient of four Grammy Awards, three American Music Awards, three Country Music Association Awards, three Canadian Country Music Association Awards and twenty-four Juno Awards. Anne has also been honored with the Legacy Award from the Canadian Songwriters Hall of Fame (2006), the East Coast Music Association Directors' Special Achievement Award (2001), induction into the Canadian Country Music Hall of Fame (2002), and induction into the Juno Hall of Fame (1993).
Anne Murray will tour to several U.S. cities in February and March 2008 (
confirmed tour dates listed below
). For updates and additional information, visit Anne Murray's
official Website
: or
AnneMurrayDuets.com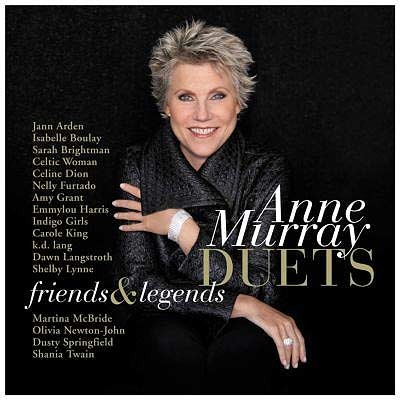 Anne Murray Duets: Friends & Legends (CD and Digital Album)
1. Danny's Song Martina McBride
2. I Just Fall in Love Again Dusty Springfield
3. Another Pot O' Tea Emmylou Harris
4. Daydream Believer Nelly Furtado
5. Somebody's Always Saying Goodbye Jann Arden
6. Song For The Mira Celtic Woman
7. Time Don't Run Out on Me Carole King
8. Cotton Jenny Olivia Newton John
9. A Love Song k.d. lang
10. You Needed Me Shania Twain
11. Nobody Loves Me Like You Do Dawn Langstroth
12. You Won't See Me Shelby Lynne
13. Could I Have This Dance Amy Grant
14. A Little Good News Indigo Girls
15. Snowbird Sarah Brightman
16. When I Fall in Love (live) Celine Dion
17. Si Jamais Je Te Revois Isabelle Boulay
(If I Ever See You Again)
Anne Murray: Confirmed U.S. Tour Dates (2008)
FEBRUARY
09 Providence, RI Providence Performing Arts Center
10 Uncasville, CT Mohegan Sun
12 Lancaster, PA American Music theater
13 Lancaster, PA American Music theater
14 Shippensburg, PA H. Ric Luhrs Performing Arts Center at Shippensburg University
16 Verona, NY Turning Stone Resort & Casino
17 Morristown, NJ Community theater at the Mayo Center for the Performing Arts
18 Red Bank, NJ Count Basie theater
20 Greenville, SC Peace Concert Hall - The Peace Center
22 Sarasota, FL Van Wezel Performing Arts Hall
23 Clearwater, FL Ruth Eckerd Hall
24 Clearwater, FL Ruth Eckerd Hall
26 Melbourne, FL Maxwell C. King Center for Performing Arts
27 West Palm Beach, FL Kravis Center
28 Coral Springs, FL Coral Springs Center for the Arts
MARCH
03 Lakeland, FL The Lakeland Center - Youkey theater
04 Lakeland, FL The Lakeland Center - Youkey theater
06 Fort Myers, FL Barbara B. Mann Performing Arts Hall
08 Silver Springs, FL Silver Springs Park - Twin Mansion theater
11 Columbus, GA River Center for the Performing Arts
12 Knoxville, TN Tennessee theater
13 North Charleston, SC North Charleston Performing Arts Center
15 Myrtle Beach, SC Alabama theater
16 Charlotte, NC Belk theater
18 Bethesda, MD Music Center at Strathmore
19 Easton, PA State theater
20 Lowell, MA Memorial Auditorium
With Martina McBride on "Danny's Song"
(Interview/Studio Performance)
Windows
Hi
|
Lo
Quicktime
Hi
|
Lo
With Olivia Newton-John on "Cotton Jenny"
(Interview/Studio Performance)
Windows
Hi
|
Lo
Quicktime
Hi
|
Lo
With Shelby Lynne on "You Won't See Me"
(Interview/Studio Performance)
Windows
Hi
|
Lo
Quicktime
Hi
|
Lo
(Streaming audio and/or video links may expire without notice)