Anne Heche Gets Naughty And Silly In Sundance Movie 'That's What She Said'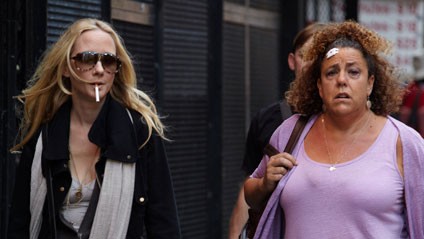 One of the most surprising performances in Sundance Film Festival movies is Anne Heche in That's What She Said. The raunchy girls comedy casts her as a chain smoking foul mouthed drunk doing suggestive sexual dances in a coffee shop. At the Q&A following the premiere screening in Park City, Heche revealed how the filmmakers encouraged her to go sleazier and lower brow.
"The worse I got and the sloppier and dumber and more ridiculous I got, the more they laughed," Heche said. "Just like any other dumb comedian, I was like, 'Well, then I'll go for it!'"
Directed by True Blood actor Carrie Preston, the script by Kellie Overbey gave Heche a chance to go wild in ways no other film has, not even her comedies.
"I read this script, I opened it like five minutes before I got on a plane. By the time I landed, I was calling all over the place. My manager's here and will tell you. I was like, 'We're doin' it. We're doin' it. This is funny. It's not only funny for me but it's a way to talk about friendship and women in a way that I haven't seen done.' Within an hour after doing Letterman, Carrie and I were sitting down and said, 'Let's make it happen.'"