Anne Hathaway's Rep Downplays Extreme Diet Rumors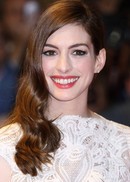 Anne Hathaway's rep has hit back at reports the star has gone on a dangerous crash diet to shed the pounds for her role in Les Miserables.

The Devil Wears Prada actress has landed the role of doomed prostitute Fantine in the film adaptation of the hit stage musical, set in 19th Century France.

U.K. tabloid reports claimed Hathaway was on an extreme 500 calorie-a-day diet to shift 16lbs in just 20 days so director Tom Hooper can shoot the character's tragic death scenes.

However, the star's publicist has downplayed the rumors, saying, "She is losing weight for the part, but not that much. Just enough for her to look more frail, as she is playing a dying prostitute.

"She is consuming more than 500 calories. (The tabloids) are making something of nothing, as usual."