Anne Hathaway Wears A Wing-Like Pearl Studded Gown At 'Les Miserables' Premiere - See Tons Of Photos!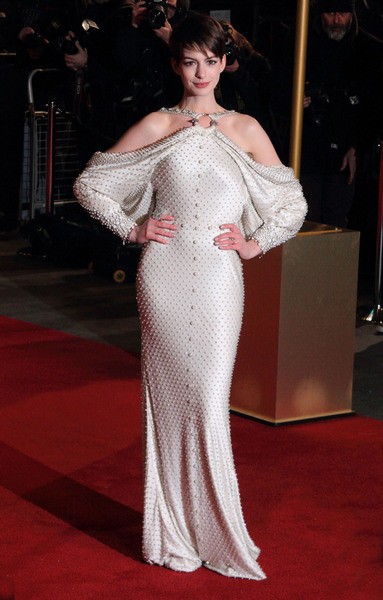 The stars came out in full force at the "Les Miserables" world premiere in London on Wedensday night. Anne Hathaway stood out on the red carpet in a backless, pearl-studded Givenchy gown with off-the-shoulder sleeves that resembled wings.
Hathaway, who chopped her hair and lost 25 pounds to portray Fantine, recently told EW.com, "I couldn't sleep. I was so starving, my body was keeping me awake at night, like it was telling me, 'Go look for food!' I was kind of in this otherworldly, slightly ecstatic manic state all the time."
Her co-star Amanda Seyfried looked lovely in a black and white Balenciaga by Nicolas Ghesquiere dress with a low-cut neckline. Russell Crowe, Hugh Jackman and other stars also attended the premiere.
The film centers on Inspector Javert's (Crowe) obsessive quest to capture escaped convict Jean Valjean (Jackman), who breaks parole to take care of factory worker Fantine's daughter, Cosette.
See more photos from the premiere...