Anne Hathaway Shows Off Her Super Short Hair In Miami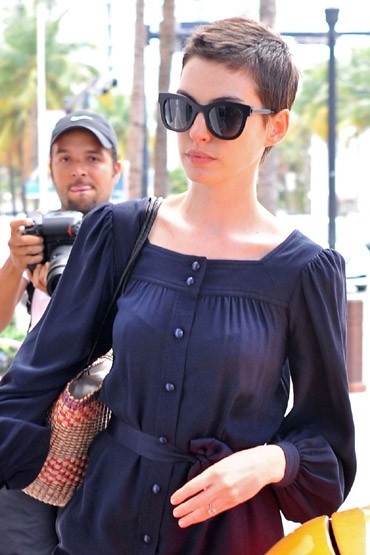 Last month Anne Hathaway chopped off her hair for her role as Fantine in the big-screen version of "Les Miserables." The film centers on the obsessive quest of Inspector Javert (Russell Crowe) as he spends years in an effort to capture escaped convict Jean Valjean (Hugh Jackman). It opens December, 2012.
We spotted short-haired Anne shopping in Miami yesterday. She's in town to celebrate Valentino's 80th birthday celebration. The actress wore a blue dress, sandals, and sunglasses.
Anne plays Catwoman in "The Dark Knight Rises." The story picks up after the events of "The Dark Knight," with Christian Bale returning as the Caped Crusader. This time he is pitted against the deadly Bane (Tom Hardy) and Selina Kyle, a.k.a. Catwoman. The film hits theaters July 20.
See more photos of Anne...