Anne Hathaway Parodies Katie Holmes, Claire Danes From 'Homeland' On SNL (Video)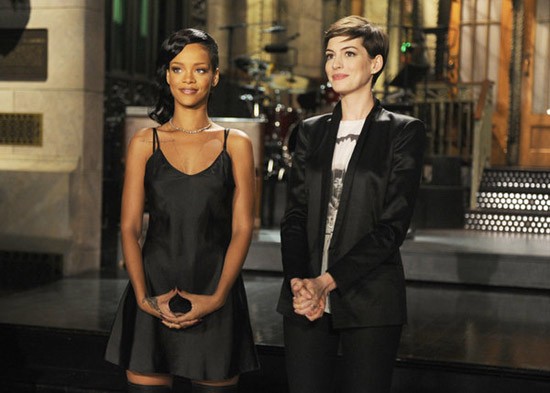 Last night in a skit for "Saturday Night Live" Anne Hathaway donned a blonde wig to parody "Homeland" star Claire Danes. She also resurrected her Katie Holmes impression.
During her third stint as SNL host, Hathaway portrayed Danes in her award-winning portrayal of bipolar CIA agent Carrie Mathison. Hathaway feigned a tearful meltdown and a kiss with a detainee in an interview room in a parody of the popular Showtime drama before poking fun at newly single Holmes.
Hathaway first targeted Holmes during her first SNL hosting gig, and she did it again with a spoof interview on "The Ellen DeGeneres Show." Kate McKinnon played DeGeneres.
The real Ellen DeGeneres watched the skit with her wife Portia de Rossi and loved it. She posted on Twitter: "Portia and I just laughed so hard at the spoof of my show on SNL. I love when Kate plays me."
Singer Rihanna performed.