Anne Hathaway Channels 'Fifty Shades Of Grey' In Bondage Footwear At 'Les Miserables' Premiere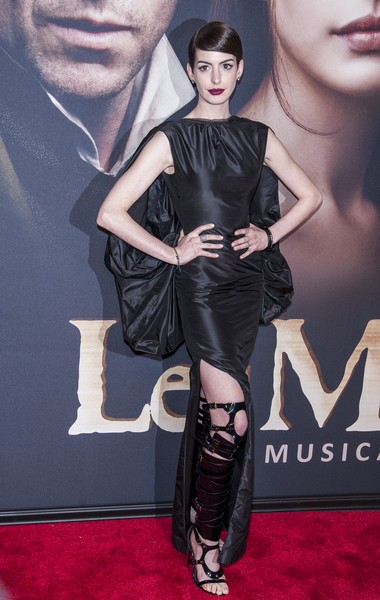 Last week Anne Hathaway made a statement in a pearl-studded Givenchy gown with off-the-shoulder sleeves that resembled wings. Last night, she opted for another odd look.
The actress attended the "Les Miserables" New York City premiere wearing something perhaps better suited for the "Fifty Shades of Grey" adaptation: bondage footwear.
The odd shoes (created by Tom Ford) resembled both a knee brace and shin guard. The footwear drew attention away from the dress (also Tom Ford), which from the back almost looked like a garbage bag.
The shoes were reportedly vegan "leather" and made especially for the actress.
See more photos of Anne's interesting look...