Anne Hathaway Buries The Hatchet With Valentino At Met Ball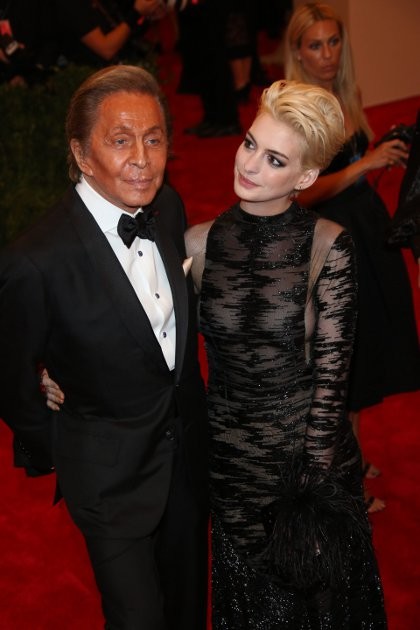 On Monday, Anne Hathaway made up for ditching her Valentino gown at the Oscars by gliding down the red carpet at the Costume Institute Gala with the designer himself.

The platinum blonde actress had chosen a grey outfit with elaborate silver embroidery by her favorite couturier for the Academy Awards, but swapped it at the last minute for a pale pink Prada gown. The night turned out to be the biggest of Hathaway's career so far - she picked up a Best Supporting Actress statuette for her turn in Les Miserables.

She apologized to Valentino after the event for snubbing his creation, insisting she didn't want to clash with another star who had opted for a similar style outfit.

Nevertheless, Hathaway made amends with the Italian fashion icon at New York's Met Ball on Monday, when she donned a black, sheer dress made by Valentino himself.

She showed off the creation as she walked down the red carpet at the Metropolitan Museum Of Arts on the arm of the designer.

Hathaway told reporters, "I feel very glamorous and very cool at the same time, that's because of him (Valentino)."