Anne Hathaway And Samuel L. Jackson Have A 'Sad Off' To Promote 'Les Mis' & 'Django Unchained'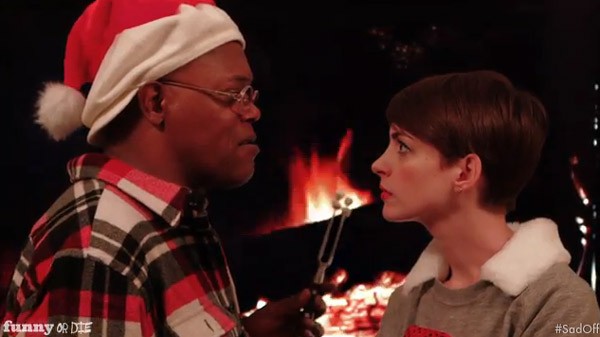 Anne Hathaway and Samuel L. Jackson star in a hilarious new Funny or Die! video promoting their new films, Les Miserables and Django Unchained, respectively.

The two stars, wearing t-shirts to promote their respective movies (and Jackson wearing a sweet holiday version of his signature Kangol hat), begin by telling viewers that it's "important to remember the more upbeat aspects of the season" -- as opposed to the dramatic, "bleak" themes of Django and Les Mis.

Then it gets ugly as both stars square off over whose film is sadder.

"Oh, come on! My movie is literally called The Miserable," Anne says before adding, "I guess your movie is kind of dark."

"Kind of dark?" asks Jackson in his signature tone. "Interesting choice of words there, now you know my movie is about slavery right?"

Both stars get into it, going back and forth and even bringing gingerbread houses into their holiday argument.

We won't give too much away, check out the hysterical video below...


*WARNING: there's some harsh language, including quite a few "f-bombs" (it is Samuel L. Jackson, of course).