Anne Hathaway And Husband-To-Be Make Home In Clocktower Building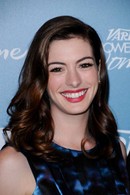 Anne Hathaway has a ritzy new home in New York - the actress and her new fiance have moved into an apartment in the exclusive One Main Clocktower Building.

The Brokeback Mountain star and actor Adam Shulman took up residency in the luxury Brooklyn building on December 1, according to Life & Style magazine.

A neighbor tells the publication, "They looked adorable together."

The couple became engaged last month.