AnnaLynne McCord Shows Off Her Sexy Curves In A Wetsuit - Then Takes It Off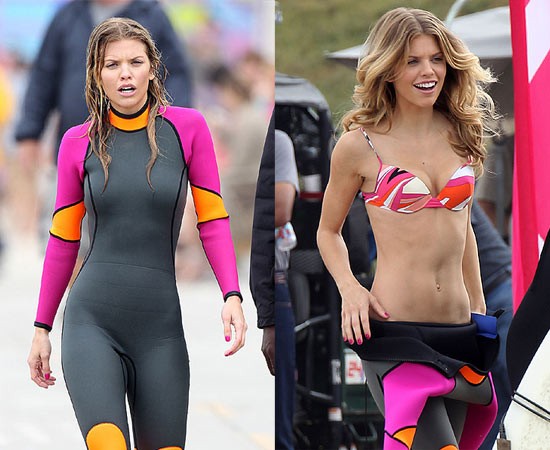 Annalynne McCord donned a wetsuit and braved chilly waters to film a surfing scene for her hit show, "90210," on Wednesday.

Last month the star confirmed that she's dating Kellan Lutz after hitting it off with the "Twilight" star over the summer while working on the St. Bernard Project in New Orleans. The couple helped build homes together and McCord realized that Lutz was "all that I want."

"I don't care if he ever does a movie the rest of his life. If he cares about this, then that is what I want. It means a lot to me," she says, speaking of her passion to help the less fortunate.

The actress, who plays Naomi on the CW's remake of "Beverly Hills, 90210," recently had a run-in with celebrity socialites Kim and Khloe Kardashian when the sisters made a cameo on the show as fashion boutique owners. Naomi called them "ho's" after they wouldn't work with her on a purchase.
Yeah, we're jealous.