Anna Paquin & Stephen Moyer, Miley Cyrus, Miranda Kerr & More New Photos Added, June 22, 2011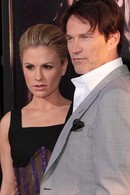 Tons of new pictures are added to Starpulse every day. Here's a list of some of the big names we've added today, click on each star's name for their main gallery, which includes all the new additions as well as tons of others.

Click the event titles to see ALL images from that event, with dozens of photos in each! All event galleries can be found on the photos main page!

HBO's 'True Blood' Season 4 Premiere
Alexander Skarsgard
Anna Paquin
Brit Morgan
Carrie Preston
Fiona Shaw
Ryan Kwanten
Sam Trammell
Stephen Moyer

'The Ledge' NYC Screening Hosted by the Cinema Society & Grey Goose
David Schwimmer
Irina Pantaeva
Kathleen Turner
Liv Tyler
Olivia Palermo
Patrick Wilson
Stephen Baldwin
The Ledge

An Evening With 'Men Of A Certain Age' Hosted by the Paley Center
Brittany Curran
Men Of A Certain Age
Ray Romano
Scott Bakula

Bethenny Frankel 'A Place of Yes' Book Signing at Barnes & Noble The Grove in Los Angeles
Bethenny Frankel

Lloyd in Concert at Power 99 FM WUSL's Xfinity Performance Theatre
Lloyd

2011 Critics' Choice Television Awards - Arrivals
Anna Torv
Camille Grammer
Christina Hendricks
Courteney Cox
Kaley Cuoco
Lacey Schwimmer
Neil Patrick Harris
Zooey Deschanel
Also added (click each for their photo gallery):
Scott Bakula
Stephen Baldwin
Alan Ball
Jordana Brewster
Miley Cyrus
Fergie
Jessica Hall
Geri Halliwell
Miranda Kerr
Heidi Klum
Ryan Kwanten
Joe Manganiello
Bridget Marquardt
Stephen Moyer
Jayde Nicole
Donny Osmond
Marie Osmond
Anna Paquin
Ray Romano
David Schwimmer
Alexander Skarsgard
Sam Trammell
Liv Tyler
Holly Valance
Patrick Wilson
Kate Winslet