Anna Paquin Photographed Nude In A Coffin With Husband Stephen Moyer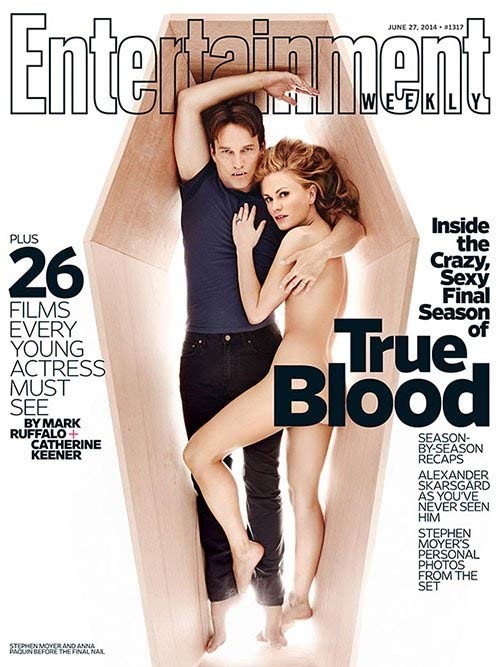 True Blood stars and real life husband and wife Anna Paquin and Stephen Moyer share the cover of the latest issue of Entertainment Weekly.

Paquin posed nude lying in a coffin next to her clothed husband, in character as the show's bloodsucker Bill Compton.

Moyer, who directed the premiere episode of the show's seventh and final season, had to direct his wife in a scene with co-star Joe Manganiello and instead of finding the situation awkward, he embraced it.

"There are moments where I'll be watching the monitor (and say), 'Oh, Joe, just move your hand up towards Anna's breast. And can you move your thumb just a little bit towards her nipple? Great'. And then I'll go, 'Babe, babe, enjoy it'," he tells the magazine. "I'm certainly talking to her as 'babe.' Darling, go for it. Yeah, feel the nipple."

And having another man's hands all over her while her husband is filming them is no big deal for Paquin, either.

"We set the bar very high for weird very early on," she says. "We've done a lot of odd sh*t on this show. Actually, the potentially awkward couplings [are] not the weirdest sh*t that we've done on this show."

Moyer added that because he and Paquin are married, their intimate scenes have taken them to "places where a lot of people don't get to."

Paquin and Moyer were engaged in 2009 and wed the following year. They have two children together, twins Poppy and Charlie, who will be two in September.

Read the couple's full interview over at EW.com.