Anna Friel: 'I Don't Have Two Nannies'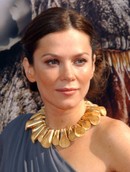 Actress Anna Friel has denied reports she's recruited two nannies to look after her six-year-old daughter while she works.

The Pushing Daisies star attracted barbed comments from online critics earlier this year when she revealed she relies on outside help with the pressures of raising Gracie, her daughter with ex-boyfriend David Thewlis.

But now she's spoken out to silence the gossips, insisting rumors she employs two nannies at the same time were sparked by a misunderstood quote.

Friel tells Britain's Sunday Express, "I don't have two nannies. Let me put the record straight right now. I did an interview earlier this year when I said how grateful I was for the help of nannies, and the next thing I knew it was: 'Anna Friel has two nannies!'"