Angus T. Jones Lands Huge TV Contract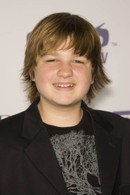 Angus T. Jones has an extra reason to smile when he celebrates his 17th birthday on Friday - the Two And A Half Men star has landed a new contract for $300,000 an episode.
 
The actor's deal means he will make $7.8 million over the next two seasons - and he's also scooped a $500,000 signing bonus.
 
Jones, who plays Charlie Sheen's nephew on the sitcom, signed the paperwork in May but now a Los Angeles County Superior Court judge has approved the pay rise, reports TMZ.com. Official approval was needed because the star is still a minor.

Jones isn't the only one whose bank balance is about to be boosted - his co-star Sheen has reportedly negotiated a contract worth $2 million an episode.
Click Here For More Angus T. Jones Pictures