Angie Johnson Emerges Strong After 'The Voice'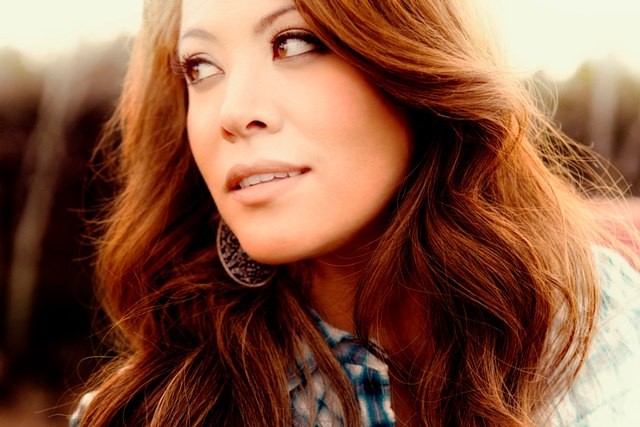 Angie Johnson found national fame when the producers of The Voice saw a video of her performing Adele's "Rolling In The Deep" and invited her to audition for the hit NBC show's second season. Since becoming a member of Team Cee Lo, Angie's careers - both in music and the United States military - are now going stronger than ever.
She's signed with Sony Music, released her new EP Sing For You, has performed at CMA Fest, and in Ohio she'll get to open for country superstar Martina McBride. At the same time, Angie continues to serve her country. Big Red Chairs caught up with her during a recent rehearsal to chat with Angie about how The Voice affected her life and career, how she broke out afterward, and what's ahead of her.
Angie's rise began not long after leaving The Voice during the battle rounds. "I was more than halfway through my Kickstarter campaign and I think we were pretty close to raising everything that we needed," she explained. "I got this phone call. My manager was like 'We have this appointment with [Sony Music Nashville chairman and CEO] Gary Overton. He wants to meet you.' I don't really even know how he got my name. Once we had the meeting, he was like 'I've seen your video. I've seen you all over YouTube. I've seen your Voice performances.' He said 'Just kind of tell me what you're doing.' And I told him."
So on March 19, Kickstarter backers received a letter from Overton, not only announcing that Angie had signed a recording contract with Sony, but also explaining that her fans were going to remain a crucial part of the process. That was something she was adamant about. "It ended up being a really great marriage between me and my Kickstarter fans and the record label," Angie continued. Sony even sent out an exclusive poster to all her backers, with their names on it as a thank-you for their support.
The four-song Sing For You shows a variety of different sides, and it's hard for Angie to pick a favorite even from that limited number of tracks. "I'm biased because I co-wrote two of the songs on there," she laughed. "I love 'Sing For You' and I love 'Swagger.' One is very solumn and it's very raw - and the next one is nothing but a party dance song!"
With the EP out, Angie - who now resides in Nashville and says she's "always been a country singer" even if she was singing Pat Benatar on national TV -  is now focused on hitting the road for live performances, although she added that a full album is in the works. Aside from CMA Fest, "I'm going to be all over the place. I'm going to be in [Washington] DC doing some shows for military events," she said. "I've got a show in Ohio coming up. I'm opening up for Martina McBride." That's July 26 at the Ohio State Fair; for a list of all Angie's upcoming tour dates, click here.
She's already accomplished some pretty great things, and has some others on her radar for the future. "I sang at the White House last year, which wasn't something I ever saw on my radar, but was such an incredible experience," she told us. "I've also performed at The Grand Ole Opry twice now - it's the most incredible place, magical even, with how many of the greats in music who have performed there. That's probably my one big long term goal - I want to be invited to become a member of The Grand Ole Opry.  I used to watch Grand Ole Opry Live on The Nashville Network with my Dad when I was growing up and it's been a dream of mine to be a member ever since.
"My short term goals are two-fold at the moment.  I really want to get back overseas to do a USO show for deployed troops.  I've gone over every couple of years since I joined the Air Force so I'm due for another trip to the Middle East.  The other thing I can't wait for is to hear one of my songs on the radio for the first time.  I will totally freak out and probably cry!"