Angelina Jolie's 'Maleficent' Costume Scared Everyone But Daughter Vivienne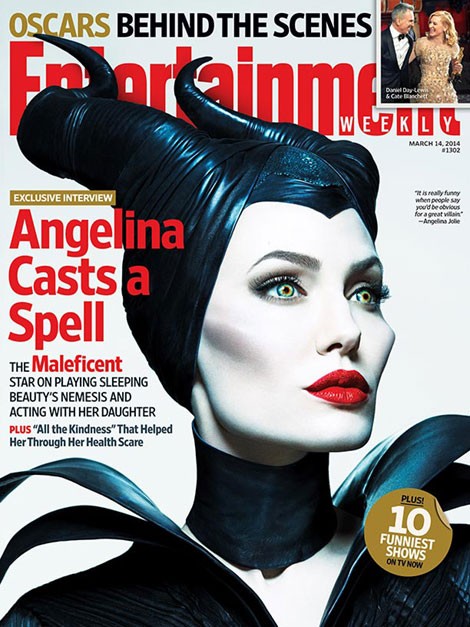 Angelina Jolie's daughter Vivienne was cast as the young princess Aurora in her film "Maleficent" because she was the only child on set who wasn't affraid of the villainess with big horns, claws and scary eyes.
Vivienne, 5, wound up with the role because she happened to be on set the day the part was being cast. The little girl was the only one who had the courage to approach Jolie when she was made up as the wicked queen.
The actress told EW.com: "We think it's fun for our kids to have cameos and join us on set, but not to be actors. That's not our goal for Brad (Pitt) and I at all, but the other three and four year olds wouldn't come near me. It had to be a child that liked me and wasn't afraid of my horns and my eyes and my claws. So it had to be Viv."
During Disney's annual fan convention in Anaheim, Calif. in November, Jolie told the audience: "These little kids would visit the set, and I would think, 'Oh, I am a Disney character,' so I would go over to them, and say, 'Hi there.' They would just scream. One little kid even said, 'Mommy, please make the mean witch stop talking to me."
In the film, the classic "Sleeping Beauty" fairy tale is told from the perspective of Maleficent, the self-proclaimed "Mistress of All Evil." The movie centers on the events that hardened her heart and drove her to curse the baby Aurora, played as a teen by Elle Fanning.
"Maleficent" will hit theaters on May 30, 2014.
Jolie and Pitt and four of their six children (left to right) Pax, Shiloh, Vivienne, and Maddox in Los Angeles in February. Zahara and Knox are not pictured.