Angelina Jolie Worried Rape Scene Would Cause Tension Between Bosnian And Serbian Castmembers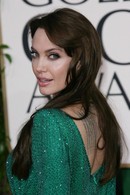 Angelina Jolie was "very nervous" as she shot a harrowing rape scene for her directorial debut In the Land of Blood and Honey, because she feared the controversy between a Serbian soldier and a Bosnian woman would stir tensions between local actors on set.

The actress and first-time director hand-picked the stars of her Bosnian War love story and many of the castmembers, including Zana Marjanovic, Goran Kostic and Rade Serbedzija, witnessed first-hand the atrocities of the 1990s conflict growing up in the region.

However, Jolie feared one of the earliest scenes in the movie, involving actor Ermin Sijamija sexually abusing a female, would cause friction between the stars as they all came from opposing sides of the ethnic battle.

She says, "The first scene we shot was when the women were pulled off the bus and things are ripped away from them and (one) woman is raped in front of the others. Many of the cast had known each other and came from different sides of the conflict so I was very nervous that this first day would cause more tension."

But Jolie had no reason to worry - because the actors behaved like gentlemen as soon as the emotionally-tough scene was over.

She continues, "The first scene we played it out and it was shocking and horrifying. As soon as I called 'cut', I noticed Ermin picked up the woman who he had to rape in the scene and gave her the biggest hug and made sure she was OK. All the other men picked up the clothes off the floor and redressed the women themselves and that was the beginning of how we would all treat each other on this film. It set the tone."