Angelina Jolie Undergoes Double Mastectomy & Reconstructive Breast Surgery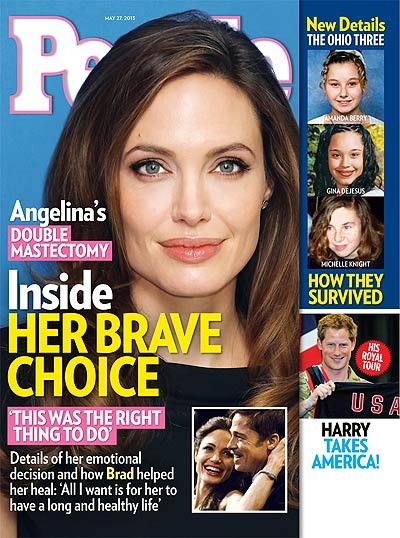 Angelina Jolie is one resilient mom. The actress, 37, has experienced no complications since undergoing a double mastectomy in February and reconstructive surgery in April. "She is doing well," a source tells PEOPLE in this week's cover story, which features a never-before-seen personal photo of Angelina as a baby being held by her mother Marcheline Bertrand, who died of ovarian cancer at 56 in 2007.

But Jolie's medical odyssey is not done. The mom of six is also planning to undergo surgery to remove her ovaries. Because of her "faulty" BRCA1 gene, she still faces a high risk of developing ovarian cancer, which her doctors estimate at 50 percent. Some doctors recommend patients undergo the surgery by age 40 or when a woman is done having children, though it may trigger early menopause.

For now, though, the actress and her fiancé, Brad Pitt, have been focused on maintaining a sense of routine for their children. While Jolie's regular ob/gyn made occasional in-home visits before her surgery, the kids have kept to school and activity schedules, and during Easter weekend the family enjoyed an egg hunt at their Santa Barbara home. "The kids were ecstatic," a family insider tells PEOPLE. "Brad and Angie seemed very happy. They were very affectionate and sweet to each other." Then again, adds the source, "Brad always dotes on Angie."

To the kids, "life was normal," says a source, and they didn't notice anything amiss. The family insider says "Angie might have seemed a bit more tired than usual and they have had more movie nights [at home], but otherwise it seemed very normal."

Adds a family insider: "Her kids always come first to her."

More on this story, including her family's life during Angelina's treatment, how Brad has supported Angelina, and how her mom inspired her, is featured in the 5/27/13 issue of PEOPLE, on newsstands (and tablets) now.

*Also In This Week's 'People'*
Julianne Hough & Ryan Seacrest: "She's Hoping They Can Reconcile"
The Ohio Three: New Details On How They Survived - "They Are Like Sisters"
Jane Lynch On Terrorizing Teens & Orphans: "I Think I Need To Play A Saint Next"
Kate Bosworth: Watching Sally Fields & Daniel Day-Lewis Work "Is Like Watching Acrobats"