Angelina Jolie To Donate 'Land Of Blood And Honey' Soundtrack Proceeds To Charity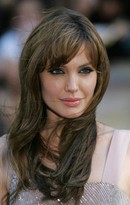 Angelina Jolie is donating a portion of the proceeds from the soundtrack of her latest film In The Land Of Blood And Honey to charity.

The actress has stepped behind the camera to make her directorial debut for the movie, which she wrote about a romance between a Serbian soldier and a Bosnian woman.

And Jolie, who is an eager philanthropist, has vowed to hand over some of the profits from the soundtrack to the SOS Children's Villages program in Bosnia and Herzegovina.

The charity helps youths in the region who are still suffering from the impact of the Balkans war in the 1990s.

Jolie says, "We are happy that a portion of the proceeds from the film's soundtrack will support SOS Children's Villages in Bosnia and Herzegovina to provide stable, family-based homes to children, regardless of religion, ethnicity or gender, who do not have their own families to care for them."