Angelina Jolie Honored With Stanley Kramer Award At Producers Guild Awards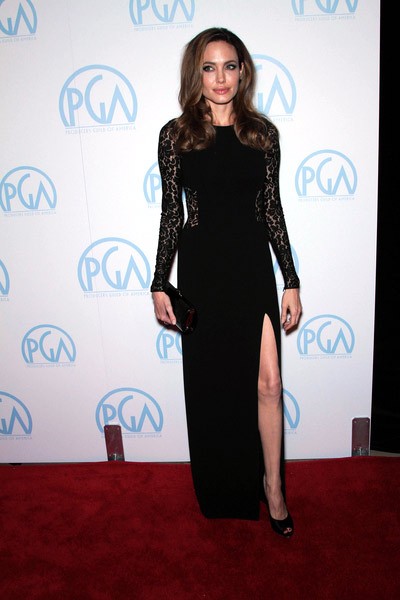 Angelina Jolie was given the Stanley Kramer Award for her feature directorial debut In the Land of Blood and Honey at the 23rd Annual Producers Guild Awards at the Beverly Hilton Hotel in Beverly Hills, Calif. Saturday night.
The Stanley Kramer Award has been given out each year since 2002 "to honor a motion picture, producer or other individual, whose achievement or contribution illuminates provocative social issues in an accessible and elevating fashion."
In her acceptance speech, she said, "The cast is from all sides of the conflict, and they crossed the religious and cultural divide to come together to make this film. It took great bravery. This belongs to them. This is their story, their film."

The film centers on a love affair during the Bosnian war.

Also at the event, silent film The Artist increased it's chances to achieve Oscars glory after winning the top prize at the Awards ceremony.

The film's maker Thomas Langmann was handed the Darryl F. Zanuck Award for Outstanding Producer at the Los Angeles ceremony.

Langmann told the audience at the Beverly Hilton Hotel that he and director Michel Hazanavicius "dreamed of making The Artist", adding: "We knew we were dreaming of writing a love letter to American cinema. We just didn't know that we would get a taste of the American dream."

The silent movie was among 10 nominees including Bridesmaids, The Descendants and The Help - and for the past four years, the top PGA prizewinner has gone on to win the coveted Best Picture trophy at the Academy Awards.

Other winners at the 23rd annual PGA Awards included The Adventures of Tintin (Outstanding Producer of Animated Theatrical Motion Pictures) and Boardwalk Empire (The Norman Felton Award for Outstanding Producer of Episodic Television).

Comic icon Stan Lee landed the Vanguard Award.