Angelina Jolie Didn't Tell Father Jon Voight About Double Mastectomy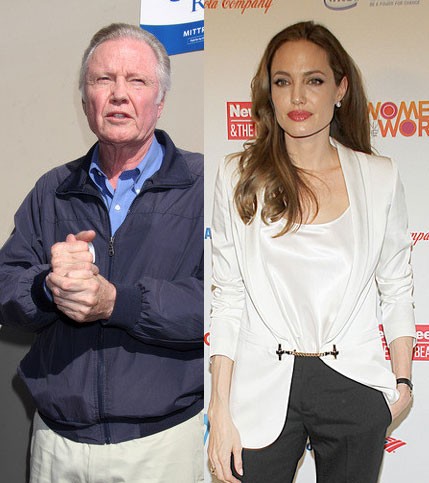 Angelina Jolie's father Jon Voight was stunned to learn that his daughter had a double mastectomy earlier this year because he wasn't told about the operation.
Doctors warned the actress that she carries the "faulty" gene BRCA1, and she had the preventative surgery in Februrary. Just like the rest of the world, Voight learned about the health crisis after she published an article in The New York Times on Tuesday.
Voight visited Jolie last weekend to celebrate her brother James Haven's birthday; however, she didn't discuss her procedure.
Despite the secret, Voight has "absolute" respect for his daughter's decision to remain close lipped. He told the New York Daily News: "My love and admiration for my daughter can't be explained in words. I saw her two days ago with my son Jamie. We all got together for his birthday, with her and Brad (Pitt). But I didn't know. It wasn't obvious at all. I found out on Tuesday morning. I was as surprised as anyone and deeply moved by the way she's handled this.
 
"She's a very extraordinary person, the way she examined it and what she shared... I completely understand...I want the focus to be on the inspiration."
Meanwhile, Jolie's fiance Brad Pitt released a statement calling the actress "heroic" for going through the process and opening up to the world about her health issues. "Having witnessed this decision firsthand, I find Angie's choice, as well as so many others like her, absolutely heroic," he told the London Evening Standard. "I thank our medical team for their care and focus. All I want... is for her to have a long and healthy life, with myself and our children. This is a happy day for our family."