Angelina Jolie: 'Brad's an Extraordinary Father; We Have Each Other's Backs' In This Week's People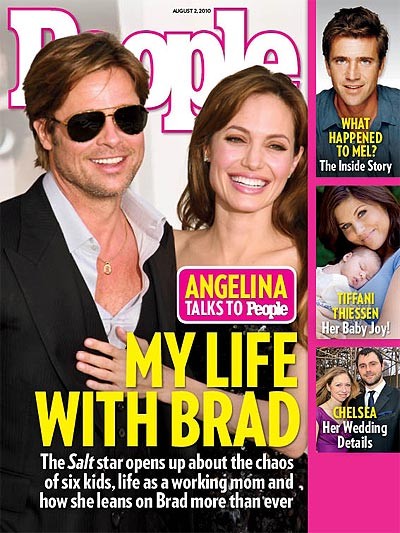 Angelina Jolie opens up to PEOPLE about life as a working mom with six children under the age of nine, how she leans on her partner of five years, Brad Pitt, and the one thing she fears - her kids' looming teen years. "I'm not ready," she says, cringing as she considers the idea. "I'm glad I have a few more years. I'm not ready for them driving or dating. I break out into a sweat at just the thought."

Last February, after taking 18 months off to be with her now 2-year-old twins Knox and Vivienne, Jolie, arrived on the New York City set of the political thriller "Salt" feeling out of sorts. "It felt a little strange to be back," she tells PEOPLE, laughing at the memory. "I kept thinking, 'I'm not an action star; I'm somebody's mom. What am I doing here?'" In addition to her twins, she's referring to Maddox, 8, Pax, 6, Zahara, 5, and Shiloh, 4. Not that juggling motherhood and movie stardom has ever appeared to be too tough for Jolie, who also has the benefit of homes around the world, private planes, and a flexible work schedule. But the star says what truly keeps her life in balance is her kids' dad, Brad Pitt. While she filmed "Salt" in NY and DC and the upcoming thriller "The Tourist" in Italy earlier this year, Jolie leaned on Pitt to tackle daily parenting duty. "Brad's an extraordinary father," she tells PEOPLE. "We have each other's backs."

Those who have spent time with the couple say they're in a good place. "They have their own way of dealing with each other like any loving couple," says "Salt" producer Lorenzo di Bonaventura. "You never saw any fights." Referring to the tabloid rumor mill, he says, "It got to the point where [the gossip] was almost amusing if it hadn't been so mean."

Whether the family is at home is Los Angeles, Manhattan or the South of France, "I begin each day listening to Viv and Knox talking," says Jolie. "They always wake up first and have the cutest conversations when they think everyone is still asleep." She says daughters Zahara and Shiloh are the "toughest people I've ever come across." Of her six children, she says, "they're pretty great together. We're lucky. They actually like each other." And when there are disputes, like in any big family, "They can't go behind one [parent] to the other. Not one of us is softer than the other."

The brood, who are tutored by a traveling teacher, were a fixture on the "Salt" set. "One day we had all the kids on-set at this abandoned airport factory," co-star Liev Schreiber tells PEOPLE, whose sons Sasha, 3, and Samuel, 19 months, enjoyed playtime with the Jolie-Pitt kids. "I remember all the kids running around having these squirt-gun fights." Between takes Jolie and Schreiber traded parenting tips. "We were like, 'Oh, you're doing time-outs.' And 'Yeah, that's probably just teething,'" he says.

More daunting for Jolie was taking on the role of superspy Evelyn Salt 18 months after delivering twins. "The thing is, when you have six kids, you say, 'I just don't have the time to train like I did for [2001's] Tomb Raider,'" she explains. "I'd had babies, and it was just getting my boots back on and punching again." Regarding talk that she's ready to shift full-time to motherhood, "I'm not retiring," she says.

With "The Tourist" wrapped, it's Jolie's turn to take on full-time parenting duty while Pitt shoots the drama "Moneyball." "Our plan is just to have really great relationships with our children, so when we hit that time where they don't want to talk to us, we've instilled some good values already," she says. "We're working on it now." (Read more of this interesting cover story on page 58 of the new issue of PEOPLE.)

**Also In This Week's 'PEOPLE'**
Photos: Tiffani Thiessen's New Baby!
Chelsea Clinton's Wedding Details
Mel Gibson "People Can Slam Mel All They Want…But Don't Count Him Out," Says Thom Mount
Sheryl Crow: "I Had A Crush On Michael And Jermaine [Jackson]"

All this and a whole lot more in this week's PEOPLE, on newsstands everywhere Friday, July 23rd!
Click for more great Angelina Jolie pictures: