Angelina Jolie And Brad Pitt: Is Their Wedding Next?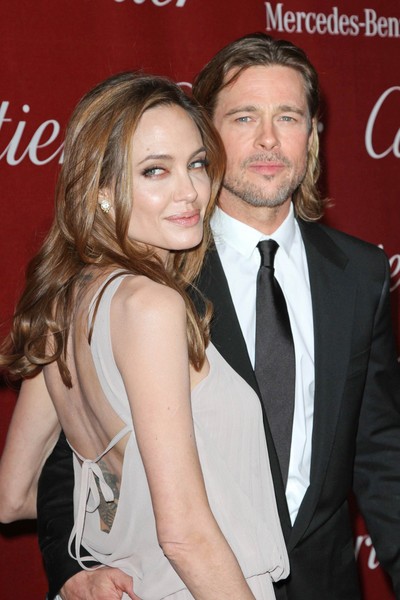 Angelina Jolie has received a lot of praise for opening up about the double mastectomy she had in February.

The actress revealed her decision via an article in the New York Times on Tuesday, saying that she carries the "faulty" BRCA1 gene -- which put her at a very high risk of developing breast cancer in the future.

Stars like past breast cancer survivors Giuliana Rancic, Kathy Bates and Kylie Minogue, and double mastectomy recipients Sharon Osbourne and Barbara Walters, who both underwent the same procedure for peventive measures, heaped praise on Jolie for telling her story, hoping that it helps educate more women and raise awareness of breast and ovarian cancers.

But none have given as much credit to Jolie as her partner Brad Pitt, who called her decision "absolutely heroic" on Tuesday.
Pitt said that his fiancee's decision to decrease he risk of getting the disease from an 87% chance to a 5% chance ensures that she'll be around for a "long and healthy life" with him and their children.

"She could have stayed absolutely private about it and I don't think anyone would have been none the wiser with such good results," he told newspaper USA Today.

"But it was really important to her to share the story and that others would understand it doesn't have to be a scary thing. In fact, it can be an empowering thing, and something that makes you stronger and us stronger," he added.

The "Moneyball" star said he was amazed that she was jet-setting around the world to places like London and the Congo just two weeks after the surgery.

"[It has been] an emotional and beautifully-inspiring few months. And I'll tell you, it's such a wonderful relief to come through this and not have a spectre hanging over our heads," he says. "To know that that's not going to be something that's going to affect us. My most proudest thing is our family. This isn't going to get that."

As far as family goes, Pitt and Jolie's six kids have been urging them to get married for over a year now. The couple got engaged last April and wedding rumors surfaced every other month since then, including one which said the couple eloped in the Turks and Caicos Islands on Christmas Day.

"The time has come... it's soon," Pitt told People magazine in December, leading many to speculate that the couple will exchange vows this summer.

The rumor has gotten some steam this month as well when reports that Pitt's ex-wife Jennifer Aniston was delaying her own wedding to actor/screenwriter Justin Theroux until later this year so the Jolie-Pitt wedding wouldn't overshadow her own nuptials.

Despite getting back to humanitarian efforts just weeks after the major part of her surgery, Jolie has kept a low profile for most of the year, while Pitt has been out promoting his new film, "World War Z," which hits theaters June 21.

Both stars' schedules are pretty free this summer, so it's a good bet we'll be hearing about a wedding in the very near future.