Angela Mukul Breaks 'Free' With Debut EP, New Music Video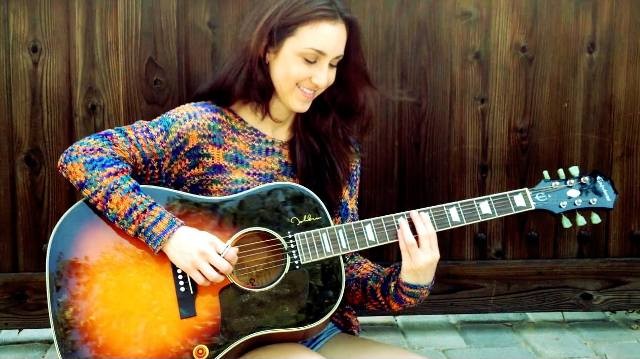 We hear all the stories about musicians who are at the top of their careers, but for each one of those there are a dozen others fighting to get where they are. How do you make the climb? BFTV checked in with Angela Mukul, who recently released her debut EP and is unveiling her music video today, to discuss how she's been building her resume and her brief but important brush with Hollywood.
Right now, it's all about Free, which came out last week. "All the songs are written by me," she explained. "And it's a really special because I was able to do this because of a Kickstarter campaign that was successful. It was a great experience. It's still a great experience, to have that support and to be able to connect with people that maybe I didn't even know. It's been really rewarding, fulfilling the Kickstarter rewards. Someone asked me to write a song for his wife's birthday. A lot has gone into this EP and I'm just excited to have it out."
She's now hoping to move on to the next steps for any artist with an EP: touring and a full-length album. "I definitely would love to start [touring]. I kind of have gotten started in the college market, performing on campuses. That's kind of the new thing for me," she said, adding that she hopes Free will allow her to put out a longer release later on. "My goal with this was to do it independently on my own, and then hopefully get some representation to be able to complete an album in the future." You'll be able to catch Angela live on September 8 at the House of Blues West Hollywood Voodoo Lounge, with a CD release show to be announced later.
Angela's biggest exposure to date came when she was one of the artists working with Gloria Estefan on The Next: Fame Is At Your Doorstep, The CW's attempt at creating a singing competition series that was cancelled after one season. Since The Next didn't reach the heights of American Idol or The Voice, we asked Angela if the show still benefited her career.
"I'm proud of being on The Next; that was great," she told us. "It certainly was not what it would've been like if it was American Idol or The Voice. But it was really a wonderful experience. I'd never performed on national TV before and [to get to] kind of see how that works, and of course working with Gloria. She still keeps in touch and she's so sweet. It really was an invaluable opportunity.
"It didn't get me the same visibility as one of the other shows or get me signed to some label, but I really think it worked out for the best," she continued. "It gave me the opportunity to still continue on my own. Because sometimes with those huge shows, you get locked in and that show's name is just attached to you, I feel that it was actually a really good thing."
Along those lines, Angela hasn't had to shake the 'reality TV artist' label that folks on those bigger shows sometimes have to. "Not really so much. It still is somewhat attached, but not as if it would be on another show," she said. "It definitely has helped, though, the fact that I was on a TV show and got to work with someone like Gloria. I have a lot of other stuff going on, and the show has been like a tool to help me progress. I've been lucky not to be labeled."
While she continues to add to her resume, another accomplishment that she's proud of is her work with producer Jason Freese, after Angela came to his attention while performing a Jewel song during a set.  "He used to work with Jewel a lot," Angela explained, "and that's why he came up and introduced himself. And I went on to work with him. He was pitching songs to Jewel and writing with her, so then I got to sing demos for her, and she complimented my voice. And I got to meet her!"
Though she might not be a household name just yet, getting to sing for the likes of Jewel and Gloria Estefan are already high points for the singer-songwriter who's been performing her whole life. "I've always been singing since I was like a baby. The turning point where I really discovered that I wanted to do this as a career was when I learned guitar and did my first little show at a coffee shop. That's when I started writing songs," Angela revealed. "Songwriting is really important to me, and writing about topics that people can relate to, and connecting with people."
What advice would she give other singer-songwriters who are likewise beginning the journey of their careeers? "To be yourself," Angela said. "Just really focus on being comfortable and being yourself and just having fun. And just realizing you're performing, this is what you love."
You can preview Angela's brand-new music video below.
(c)2013 Brittany Frederick. Appears at Starpulse with permission. All rights reserved. No reproduction permitted. Visit my official website and follow me on Twitter at @tvbrittanyf.