Angel Taraji P. Henson Speaks Out Against Chained Dogs In New PETA Ad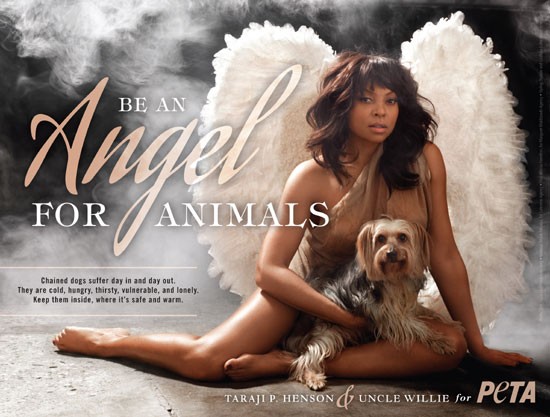 Taraji P. Henson is featured in a steamy new PETA campaign in which she appears dressed in a short gossamer gown and a pair of synthetic, cruelty-free wings next to the words "Be an Angel for Animals."
The ad says: "Chained dogs suffer day in and day out. They are cold, hungry, thirsty, vulnerable, and lonely. Keep them inside, where it's safe and warm."
The actress opened up about her pet dog, Uncle Willie, her co-star in the campaign: "I never thought that I could be so in love with an animal until I had Willie. He's our family. … He's just the best companion. Dogs to me are like children … they're the closest thing to God. They're so pure in their love, and all they do is aim to please."
Chained dogs ache for companionship and have to endure all weather extremes, including frightening thunderstorms, bitter cold, and blistering summer heat. They are also often deprived of basic veterinary care.
Chained dogs become aggressively protective of their tiny territories, and hundreds of people—mostly children—have been mauled and even killed after wandering within reach of chained dogs or encountering dogs who had broken free from chains.