Andy Williams Battling Cancer - Report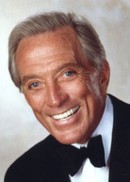 Veteran crooner Andy Williams has been diagnosed with bladder cancer, according to a report.

The "Can't Take My Eyes Off Of You" hitmaker is alleged to have met with specializts at the MD Anderson Cancer Center in Houston, Texas last month, when he underwent treatment during a brief stay.

The National Enquirer reports he was due to begin a three-week course of chemotherapy earlier this week.

A source tells the tabloid, "Andy got the diagnosis of invasive bladder cancer very recently. That means his cancer has invaded the lining of his bladder, but doctors weren't sure yet whether it had spread to other parts of his body."

A representative for Williams had yet to respond to requests for a comment as WENN went to press, but a post on the singer's website indicates the 83 year old is battling an illness - as he has yet to commit to performing at his annual holiday concert in his hometown of Branson, Missouri.

A statement reads: "Due to health reasons Andy may not make a live appearance in his Christmas Show."