Andy Grammer Chats With Starpulse Before His Show At The Troubadour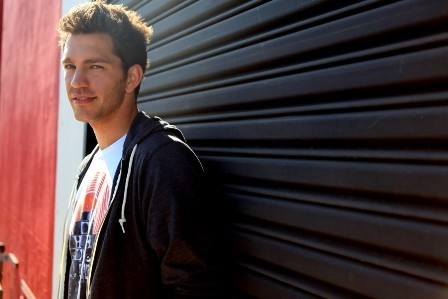 Not only is musician Andy Grammer talented, ambitious and easy on the eyes, he is about ready to explode onto the pop music scene. How do we know that? It's the energy and soul he brings on the stage with him, not to mention the hundreds of fans who go crazy when he opens his mouth to belt out a tune. We sat down with Andy before his show at West Hollywood's famous Troubadour lounge last night to chat with the artist and even stayed for the show, where we became bigger fans of his than before. As Andy switched back and forth between beat boxing, playing the guitar, singing, sitting down at the keyboard and making the ladies swoon we were positive we stumbled upon a star.
Starpulse: A few months ago we featured your video for "Keep Your Head Up" with Rainn Wilson on our site and had a really good response. Can you tell us how that came about?
Andy: Yeah, I have been so blessed this year. It was the idea of the technology for the video that was thrown at me and I said hell yeah, I want to be involved in that! How cool would it be to do a video like that, a "choose your own adventure" video. And we did it the best we could. My roommate co-wrote the book SoulPancake with Rain Wilson so I took him out to lunch and he was very gracious and helped me out with the video.
Starpulse: We were watching you during sound check and a lot of people probably think bands just get up on stage and perform at the concert; they don't realize how much work goes into it. What happens during a sound check?
Andy: It's so scary every time. When you are up there, you have to hear yourself and if you can't then you are just screwed. So you prepare all this time beforehand for the show and if you don't' work well with the sound man at the venue, it's just a joke. But I have performed and done this so much, it is like breathing to me.
Starpulse: Where did you grow up?
Andy: I was born in Los Angles then I moved to Nashville, then New York, where I grew up. My dad is a Grammy nominated children's singer, who is amazing. Then I came back to LA about 6 years ago.
Starpulse: We recently read somewhere that you were an artist "about to pop", what does that mean to you?
Andy: I'm about to pop? That is so exciting! Well, it's just pretty amazing to perform here at the Troubadour. I have been so lucky this year to be on national TV and on the radio- so hopefully I'm going to pop!  Let's do this tonight- I feel like I am the popcorn who has been cooking for so long. It's been funny to be introduced as the new artist when I have been doing this for a little while actually.
Starpulse: Who do you look up to as musical influences?
Andy: I look up to a lot of different genres. I'm digging hip hop right now like Lupe Fiasco and Common. The word play that means something kills me and then there's Chris Martin from Coldplay who knows how to writes something so simple it makes you melt. I love the guitar guys like John Mayer, Jason Mraz and Jack Johnson too.
Starpulse: Who would be your dream collaboration?
Andy: I just finished Jay Z's book and I would love to collaborate with him because I'm from upstate New York, so we could do a twist on that. I beat box too so it would be cool if I could be beat box and he could rap over it. (After he showed us what he meant, we would love for that collaboration to happen too).
Starpulse: What was the last song you downloaded on iTunes?
Andy: "F*#k You" by Cee Lo Green. It's such a fun song. It's hard to find a great song that is fun and well written.  (His even sang the song as his encore number at the end of the night with backup singers, a trombone and white shades).
Starpulse: What was the last thing you Googled? And don't say yourself!
Andy: I have Googled myself before and this really terrible picture comes up. But I think the last thing I Googled was this commercial for Zoosk dating service where a guy is a professional dart thrower. My friend told me about it- it was hilarious!
Starpulse: Who is your celebrity dream crush?
Andy: I would have to say Rachel McAdams because she is cute and a great actress.
Starpulse: What's coming up next for you?
Andy: Well, I'm really not allowed to say but I'm going on a really cool tour and my album is coming out in April- a lot of good things.