Andy Dick Kicked Out Of Playhouse

Andy Dick's antics are hitting headlines once again - the funnyman was reportedly ejected from a Los Angeles playhouse after storming into the venue in a drunken stupor earlier this month.

According to the National Enquirer, the troubled comedian walked into a performance of Yellow at the Coast Playhouse on June 2nd, insisting he didn't need a ticket as he attempted to find a seat. The former NewsRadio star was reportedly kicked out by the play's director, Del Shores. Shores later posted a rant on Facebook.com, raging he "kicked (Andy's) drunk a** out."

The reported incident is the latest in a string of troubles for Dick - in April, he was picked up by cops after allegedly wandering into a house in Los Angeles in the middle of the night, prompting the frightened family to call police. Within days of that incident, he was ejected from a California winery when security staff suspected him of being intoxicated.

Dick is also currently facing charges of felony first degree sexual assault for allegedly grabbing a security guard's crotch and kissing a male guest at a bar in Huntington, West Virginia without invitation in January. That case will go to court later this month June.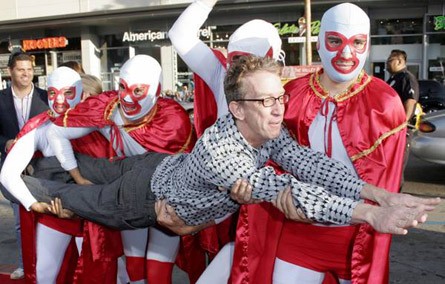 Click Here For More Andy Dick Pictures