Andy Dick: 'I'm Trying To Grow Up'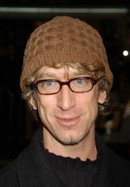 Troubled funnyman Andy Dick has signed on for twice-weekly therapy sessions in a bid to get back on his feet following a series of potentially career-ending legal woes and personal problems.

In recent years, the beleaguered comedian has hit the headlines for a string of alcohol and drug-related issues and this year alone he was ejected from an adult entertainment awards ceremony in Las Vegas after allegedly pestering a porn star, and in May he was arrested by police in California amid allegations he was drunk and disorderly in public.

And now Dick, who's been to rehab at least 10 times, is finally turning his back on the past after realizing he can no longer rely on his friends and family to pick him up and point him in the right direction.

During an appearance on The View on Friday, the Zoolander star said, "It happened within the year. It was time for my yearly intervention. Every room I went into, I'm like, 'Oh, this is going to be it, there's going to be people sitting around, every doorway, every corner I turn,' (but) nobody was there. Nobody was there to bring me back and sit me down and say, 'Andy, I think it's time to slow down, again.'

"Who knows why I do what I do and I did what I did, but this is the first time that I said, 'I'm about to be 46 years old, OK, I need to really stop and work a hardcore program. I'm in therapy twice a week... I'm trying to grow up."
 
and while Dick admits he's now 100 per cent sober, he's getting drug-tested to prove to the media and his fans that he's clean: "It's not by law, (it's) for you. I know I'm not on drugs but no one (else does)... And now I have the paperwork to prove it."