Andrew Garfield Says There Was A Huge Downside To Playing Spider-Man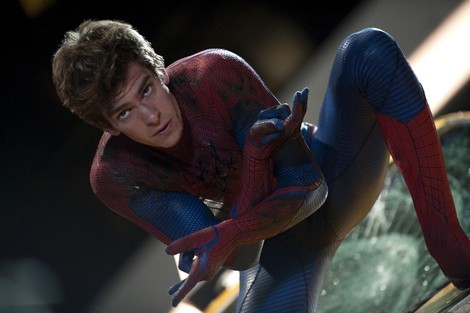 Andrew Garfield says playing the title role in this summer's The Amazing Spider-Man wasn't all it was cracked up to be.

The star kept a photo journal throughout the film's shoot so he could show fans that a day in the life of a comic book hero's Spandex super-suit was no walk in the park.

During an appearance on The Daily Show on Wednesday, Garfield showed off some behind-the-scenes photos of him standing next to a food cart but being unable to eat anything, and attempting to relieve himself in a restroom.

"There was a picture journal that I took throughout (filming) with a stills photographer; we had a day in the life of Spider-Man," he tells host Jon Stewart.

"I was so frustrated certain days in that suit that I needed to do something stupid, so we just went around the Sony lot... There's me taking a s**t, I think," he adds. "I mean, who wants to hear an actor complain about being Spider-Man? No one. But it sucks. Spandex isn't fun."

Garfield also says he understands the skepticism that many American comic book fans have about a British actor taking on the role of the webslinger.

"I went to Comic-Con last year and I was terrified. I wanted to make sure that they knew that I was just one of them," he says. "So I appeared in the audience as a fan in a crappy costume and tried to make them know that I was just kind of as fanatical.

"And I'm going to be the one in the theater shouting, 'Why did they cast that British scumbag as my favorite superhero?!'"

The Amazing Spider-Man hits theaters Tuesday, July 3rd.