Andrew Garfield Has Trouble Making Out With Emma Stone On 'Saturday Night Live'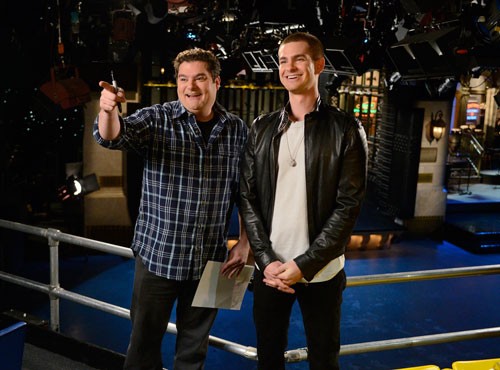 You'd think real-life couple Andrew Garfield and Emma Stone would have no trouble kissing for the cameras filming The Amazing Spider-Man 2, but Saturday Night Live revealed they may not be a normal couple.
Andrew hosted the live comedy show last night, and we were treated to multiple appearances by his girlfriend Emma, who has hosted the show in the past. In fact, during the monologue she helpfully offered him some tips.
The highlight of the episode was the skit featuring both of them filming the climactic scene of the comic book film where Peter Parker and Gwen Stacy kiss atop the Brooklyn Bridge. The problem is the two don't exactly kiss like "normal people," much to director Marc Webb. Don't worry, Coldplay's Chris Martin is here to help – and Emma is all too happy to swap kissing partners!
As a bonus, we also have an SNL favorite – a celebrity game show. Last night Family Feud had a celebrity version of the game, featuring Andrew playing Justin Timberlake (although Taran Killam steals the show with his Russell Crowe impression).